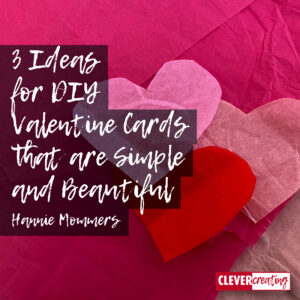 Even if you consider yourself as non-creative, as a lot of people unjustifiable do, it's pretty simple to make something.
These 3 ideas for DIY Valentine cards will inspire you to have a fun afternoon beforehand and a great day on February 14th.
Valentine's Day used to be about secret love, yet has turned into a commercial fest. Personally, I don't like that. It's so simple to go to a store and buy all kinds of stuff, or even order it online.
A day dedicated to love is better celebrated by making something yourself and giving it your complete attention and devotion. Because of all the commercial perfection, something handmade has much more value nowadays.
Some of the links are affiliate links. As an affiliate associate, I earn a small commission when you purchase any of the products offered through the shared links at no extra cost to you. This helps me to maintain this website and I thank you for supporting me.
Ideas for DIY Valentine cards
Making a Valentine card yourself is very rewarding. Both for yourself as a maker and for the receiver who values a handmade gift. Use coloured paper, ink, or magazine pictures to get a great result.
Valentine's origin
Originally, Valentine's day is a Christian celebration of Saint Valentine. There are several Valentines, as well as several legends around this historical figure. Only in the last centuries is Valentine's day connected with romantic love.
The legends are connected to several symbols, that are still present in today's celebrations. Roses, hearts, white doves, and cupid are the most used images.
The colours used most often are red and pink. When you make the card, you can either limit yourself to one specific colour or use several shades of red and pink. Whatever you like most.
Example Valentine card #1
Silk paper is a marvellous material
On the computer, in programs like Procreate or Adobe Illustrator, it is possible to get a perfect result. Yet, I love the imperfection of real materials. That's why I use silk paper a lot. If you can't stand stains or ripped pieces, this material might not be for you.
Choose silk paper in several shades of red and pink;
Cut hearts in different sizes;
Make wallpaper glue. If it gets too thick, you can add water;
Put a heart on a piece of paper and glue it;
Repeat step 4 until you're satisfied with the composition and the colours.
Some tips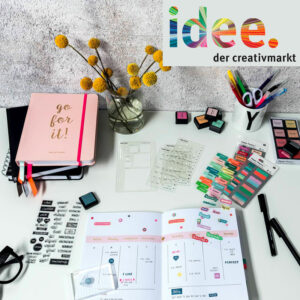 A glue stick does not work well with silk paper, because the silk paper will paste to the stick before you have a chance to glue it to the paper. That's why I use wallpaper glue, which I apply with a brush.
A card does not have a long life expectancy, so cheap wallpaper glue is sufficient. If I make something that needs to last longer, I mix wood glue with wallpaper glue in a 1:1 ratio. This makes it more water-resistant.
I always choose natural materials as much as possible, because I think there is enough plastic in the world. The wallpaper glue I use consists of potato starch.
Not all silk paper colours will stain, so if you like the material but don't like the spots, try which one pleases you on a proof sheet.
Alternatives for this card
Instead of cutting the hearts, you can tear them;
Add drawn lines or hearts with ink or felt-tip pen;
Use washi tape to decorate;
Add texts.
If you can't find silk paper, you could use kite paper, which is also transparent. Or you can choose another type of paper such as crepe paper or chintz paper. This does not have a transparent effect, but it is also attractive because of the gloss or the wrinkles.
Related: 2019 109 Easter egg
Example Valentine card #2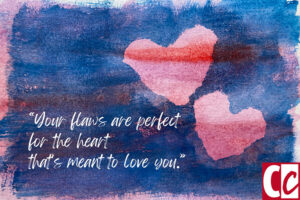 This one is made with paint and stencils. At school, when I was a kid, we cut forms out of paper, of which we blackened the edges with a soft pencil. Then we wiped over that shape on another piece of paper, leaving a recessed shape.
Related: An Optical Illusion Plays Tricks with our Eyes
Did you do that too? Something like that is really nice to do with hearts. You can use both the outer shape and the inner shape.
For this example, I first painted red, purple, and pink spots on a watercolour block. The advantage of such a block is both the quality of the paper and the glued edges, which means that you can work very wet. The paper will smooth out again when it dries.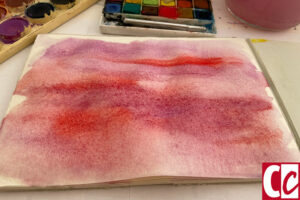 Then I tore hearts from paper and put a different colour over it with a drier brush. If you use just a little bit of water, you can create beautiful borders that are very decorative.
I added a quote I found on the internet in white pencil.
Alternatives for this card
Write the quote with a silver or gold coloured pencil;
Cut the hearts out of tape;
Instead of a quote from someone else, make up your own text;
Use acrylic paint instead of watercolour.
Example Valentine card #3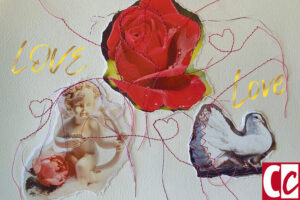 Do you love the collage technique as much as I do? I make collages a lot, in several ways. For this card, I used pictures that resemble Valentine's symbols.
Related: My Gelli Prints and Collages
After tearing the contours, I stitched them to the paper. The threads are a decorative addition to the stitching. The letters can be found in a paper supplies store.
Alternatives for this card
Cut the pictures instead of ripping them;
Add silk paper rips or strips;
Glue the pictures without stitching them;
Hide the wires neatly;
Use magazine pictures.
Related: DIY How to create your own personal card with layers in Photoshop
The satisfaction of DIY Valentine cards
To be honest, it is very satisfying to make any card, not just a card especially for Valentine's.
Nevertheless, the restriction in colour and used symbols can add greatly to the fun of making a Valentine card for your loved one.
Or loved ones, because who says you can only make one card?
Make as many as you like. It seems a lot of people don't just send cards to their special friends but also to their parents, inlaws, and children. And why not. It's marvellous to tell someone he or she is special to you.
Do you make cards yourself? Tell me in the comment box below.