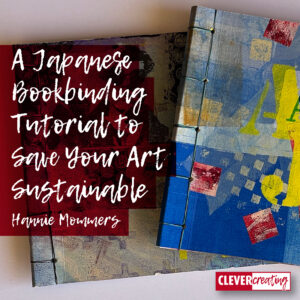 Lately, I've been making a lot of collages and cyanotypes on heavy paper. I keep most of them in a drawer where they subsequently rarely come out.
That's why I was looking for a way to bind the nicest ones into a booklet that I can easily take with me to show to others.
In another article, I described how to make booklets from plain paper, but these methods were unsuitable for thicker paper or single sheets. The Japanese bookbinding method I have tried is perfect.
Some of the links are affiliate links. As an affiliate associate, I earn a small commission when you purchase any of the products offered through the shared links at no extra cost to you. This helps me to maintain this website and I thank you for supporting me.
Japanese bookbinding
The way the Japanese fold and bind paper is an art in itself (think origami), which makes it very suitable to apply to your own art.
Supplies needed
Pages to bind;
A cover if preferred;
Paper cutter or knife;
Hole puncher or awl;
Needle and thread(s);
Patience and precision. 😉
A Japanese bookbinding tutorial
Read this article and watch the tutorial video I made for an optimal understanding. The link is at the end of the article.
In the video, I show my own examples which are too big, but if you want to use this bookbinding method with paper that is already the right size, then of course you don't have to cut it.
If necessary, cut the paper to size
I like a square format, so my pages are 17×17 cm. An extra 2 cm has been taken for the binding, so the size is 19×17 cm.
Crease a folding line with a ruler and a paper-knife
A crease is especially necessary with thick paper. It is less important for normal paper, although it can help the pages open easily when leafing through your book.
If you don't have a paper knife or some other embossing tool that's suitable for a crease, you can use the back of a pair of scissors.
Make a template to adjust the holes

Make a cardboard template so all the holes line up in the same place.
Have an odd number of holes. I used 5 in my example. Measure the correct place with a ruler or use a piece of paper.
Mark the 2 outer holes;
Fold the paper in half;
Fold it again up to the marked holes.
Use a hole punch or a stitching awl
If the paper is thin enough, you can pierce all the pages at once. If not, you have to do that page by page.
With or without cover
It depends on your preference whether you just want to bind the pages together or also want a cover.
That cover can consist of a front and a back of the same size as the pages. Or you can make a continuous cover that folds around all the pages.
You will then have to add some extra millimetres because the folds require material.
If you want the cover to be the right size, wait until you've assembled the booklet before cutting the exterior of the cover.
With or without enforced corners
It's up to you whether you want the thread only on one side or if you want to make an extra loop to the other sides.
Diagram for the thread
Start in the middle with a strong thread and pull it from top to bottom. If you are unsure about the strength of the thread or if – like me – you want to use different colours, you can use several threads at the same time.
Then pull the thread from bottom to top through the second hole. Make a loop.
Then you pull the thread through the hole next to it, again from top to bottom, after which you make 1 or 2 loops and continue in the other direction.
Work through the order of the diagram until you end up in the middle again. Make the last loop.
Finish with a reef knot at the bottom.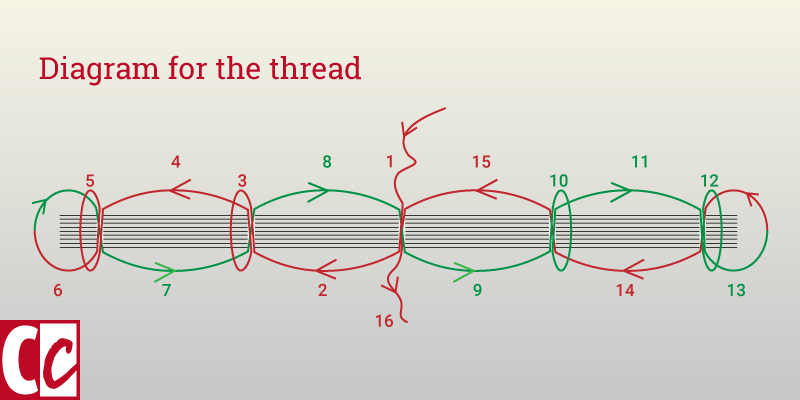 If you want to be precise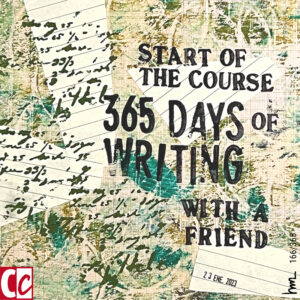 As you can see in the video, I pass the needle under the thread one more time. That way the angle of the thread will be square.
This is difficult to explain in words, so I hope the video demonstrates how I do it. If not, please let me know.
Bookbinding
There are variations possible with this type of bookbinding. And it goes without saying there are more methods to bind your art together.
Yet, I really like this type of Japanese bookbinding. It's fun to make, very practical, and with a great result.
I also find it advantageous to make separate pages as an art journal, because if I don't like a page, I can leave it out.
Did you try bookbinding? Tell me in the comment box below.