An art journal can be created in 2 ways. The focus can be on images with added text. Or the focus can be on texts to which images are added.
That depends on your own preferences. Are you primarily visual or are you mostly text-oriented?
If you're going to add text to an art journal, it's a good idea to try both methods. As an artist, we sometimes have to step out of our comfort zone and challenge our personal preferences to take leaps forward.
In this article, I describe a number of ways to display text, but also to create text.
Some of the links are affiliate links. As an affiliate associate, I earn a small commission when you purchase any of the products offered through the shared links at no extra cost to you. This helps me to maintain this website and I thank you for supporting me.
Add text to an art journal
Text is for communication, so usually, we will make words with letters and sentences with words. However, text can also be used decoratively.
Handwriting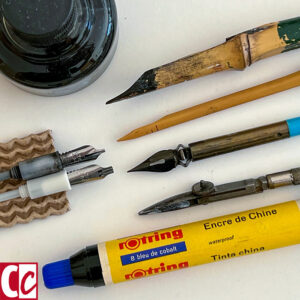 The easiest and cheapest way is to write by hand. All you need is a pen or pencil and a piece of paper. Excellent to start with and you can add different tools or materials on the way.
If you don't like your handwriting, consider calligraphy. By using a special type of pen, you will probably write more slowly, which will automatically change your handwriting.
A dip pen forces you to adjust your movements, otherwise, you will get splatters on the paper.
Although… that can add a nice grungy element to the end result. 🙂
Try a tool that you are unfamiliar with. Do you always write with a ballpoint pen? Try a soft sable hair brush or a hard boar bristle brush. The letters will definitely come out differently.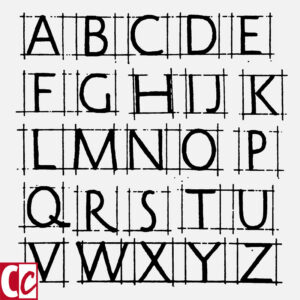 Tools
Pencil. Pencils are available in different degrees of hardness, ranging from 9H to 9B;
Biro or ballpoint pen. The most common tool to write with. Usually, they are blue, although other colours are available;
Fountain pen. I am not sure if people use fountain pens a lot any more. My husband always writes with one but I don't possess a normal one any more as I hardly used it. I do have a fountain pen with calligraphic capabilities;
Calligraphy pen. These come in different sizes, shapes, materials and ways. Flat, round, stainless steel or reed, as dip pen or as a fountain pen;
Marker or felt tip pen. If you're writing on a painted surface, it's best to choose a waterproof marker that isn't too thin, otherwise, the text will fade into the background;
Brush. Not an obvious way to write. Still, it is an excellent method for writing texts differently.
Related: Which Drawing and Painting Tools and Materials Are Available to Us?
Digital texts
If you prefer to avoid handwritten letters and you would like to see them organised and precise, you can turn to a computer and printer.
There are hundreds of different fonts to choose from, so you are able to find a suitable font for every mood or feeling you want to express or message you want to share.
If you want to combine image and text before it is printed, Canva is a great tool. I explain more about Canva in this article.
Tools
Printer. Most people have an inkjet printer, others own a laser printer. Both are connected to a computer. Although you can print in colour, you could print the letters in outline as a variation and then fill them with coloured markers or paint;
Mini Printers. Most are inkless with which you can print black text on paper in different colours. I only have experience with a Poooli printer and am still not certain whether I am enthusiastic or not. And I own a Dymo printer which is good for strips of text and labels;
Embossed letters. The disadvantage is that embossing label makers, like Dymo, have plastic strips in which the letters are printed. I prefer to use as little plastic as possible. Still, the effect is worth trying. The texts look old-fashioned, which contributes to an atmosphere that I want to evoke at times.
Related: Why is Choosing the Right Font Important to be Competitive?
Digital has the advantage that you can choose all kinds of fonts and sizes. The following materials and tools do not offer that option. They are static.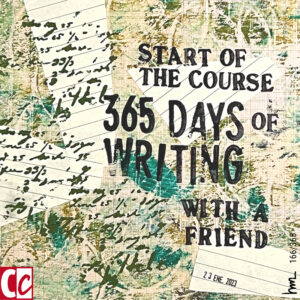 Stamps
In my graphic design practice, before I owned a computer, I used stamps quite a bit to make designs and sketches. Therefore I have several alphabets in both serif and sans serif letters.
I love the smudgy, irregular look they have. Sometimes emphasized by going over the stamp ink with water and brushes.
The stamps can be used to form words or for decorative purposes such as making rhythmic patterns or stamping randomly.
Stencils
Usually, we stick to the inner shape of a stencil. If you cut the stencils yourself, you are able to use the outer shapes, which gives a completely different effect.
You can apply the paint with a tampon brush or a roller. You can also draw the shape of the stencil by moving a pencil along the edge. The coloured shapes will likely look less rigid.
Stickers
There is a huge choice of letters or words on stickers. Either simply designed or decorated with flowers or patterns.
They can be quite decisive for the atmosphere you want to capture in your art journal.
Dry-transfer letters
A special kind of sticky letter is the dry transfers or rub-ons. Letraset is a well-known brand that offers a lot of choices.
You can apply rub-ons in 2 ways. You rub the letters on the paper to form words in black. Or you make those words negative by removing the rubbed letters with adhesive tape after covering the environment in colour with paint or markers.
Fantasy letters
Make letters with a piece of fabric or paper. Use geometric shapes or just loose lines. Cut out shapes that may not look like letters but become them when combined with other shapes.
A source of inspiration can be street graffiti. The taggers have to be quick as graffiti is banned in most places. This has a great influence on the shapes of the texts.
Magazine and newspaper pieces
Using text from magazines and newspapers in a decorative way is a great idea. Tear pieces of text or headlines to make collages or cover the text with paint that is partly opaque and partly transparent.
Related: Creating Unique Text in an Art Journal and my Pages of January 2023
How to write a text
Not everyone considers themselves capable writers. Yet writing is the same as drawing and painting: the more you practice, the better the result.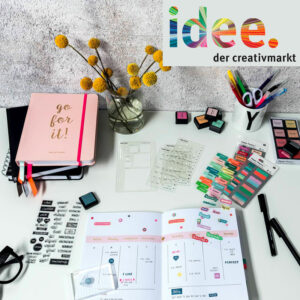 You can approach this in various ways.
BTW, it's better to handwrite than to use a keyboard when you plan to improve your writing skills. When you write you activate three parts of your brain while using a keyboard only activates one.
Take notes or create mind maps
Randomly writing thoughts you have or sentences you hear others say on a piece of paper serves two purposes: you work on your writing skills and you create a composition.
Make lists
Simple, yet effective to get started. Even writing shopping lists or to-do lists hones your ability to write.
Whiteout poetry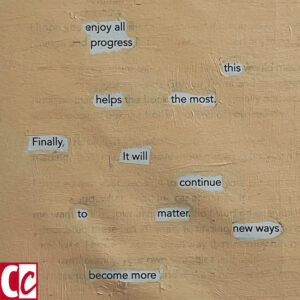 Use an old book and paint everything white except for the words you want to use as a text. In advance, circle in pencil which words you want to keep.
A variation is to use black instead of white. White has the advantage that you can still decorate parts of the page. A blackened page puts more emphasis on the words that remain.
Found poetry
Cut words out of magazine headlines and glue them on a piece of paper. You can deliberately organize them or let chance determine where the words end up.
Invent stories
Write stories starting with a word or phrase. Have someone else come up with a word or open a book at random and point your pen at the text. The word or phrase that you hit is your starting point.
Write associative or according to a structure
When I write my articles (like this one), I start with the topic. Then I write down the working title and divide it into subtopics that will form the subheadings. Then I write one or more paragraphs for each subtopic.
A very structured method and one that helps me in writing sensibly.
When the "skeleton" is ready, I shave and change until the text is to my liking, and especially, clear and understandable.
On the other hand, I also write 10 minutes in my journal daily, using a timer to really fill up 10 minutes. I get the topics from a Dutch writing coach and these topics are sometimes impossible.
The trick is to write associative and keep on going until the alarm goes off. As you can imagine, this is at times hard.
It's great to practice different writing skills as it develops creativity and open-mindedness enormously.
What is your favourite use of text? Tell me in the comment box below.