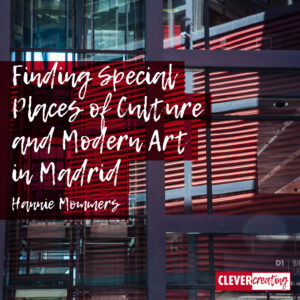 Our family lives in a suburb of Madrid with an excellent train connection to the city, so we can often be found there. Especially since there is hardly any modern culture in our own village.
Until recently I appreciated Barcelona and Valencia more than Madrid, but now that we are getting to know the city better, that is changing.
It is of course still the case that the distances to interesting places remain large, but public transport is good. There is also beautiful culture and modern art in Madrid beyond the large, overcrowded museums, which makes a visit pleasant.
Some of the links are affiliate links. As an affiliate associate, I earn a small commission when you purchase any of the products offered through the shared links at no extra cost to you. This helps me to maintain this website and I thank you for supporting me.
Culture and modern art in Madrid
There are more than 70 museums in Madrid covering all kinds of areas, but if you are particularly into modern art, there is a lot to find in both the mainstream busy museums and some interesting less-known cultural centres.
Museo Nacional Centro de Arte Reina Sofía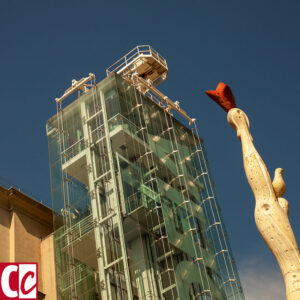 Museum Reina Sofia is a stone's throw from Atocha station. The building in which the museum is located was a hospital that has been thoroughly renovated.
The front facade with the main entrance is left in its old glory and only complemented by 2 striking glass lift towers.
Nothing of the old building can be seen at the back because of an impressive new wing that has been added there. If you take a slight detour to the left from Atocha on your way to the front entrance, you can admire that exterior.
Guernica
The first time I visited Madrid, Picasso's Guernica was in the Prado Museum. Today this is Reina Sofia's most important work. The emphasis of the collection is on Spanish modern art, hence this move.
The exhibits change regularly and the building is huge with its 3 floors arranged around a courtyard. So you can easily spend a whole day here, with a visit to the restaurant in the new wing in between.
What I found special were the large groups of students who wandered through the museum and listened to explanations, while filling in questions. It reminded me of the time when I visited museums myself with my students.
Crowds make some areas less accessible, but the museum is so large that there are always quieter parts to be found.
Admission
As is the case in several national museums in Spain, admission to Museum Reina Sofia is free for people older than 65 or younger than 18. Lucky for us. 🙂 General price is €12.
Some time slots are free for everyone (check the website of the museum). It can be very busy then, but it is nice for those who have already spent enough money in this expensive city.
It is also an advantage that the museum does not close in the afternoon, unlike many Spanish museums that are closed between 2 and 5 pm.
Tip: Museums are usually closed on Mondays. However, Reina Sofia is closed on Tuesdays, which is something to keep in mind when planning a visit.
Related: 4 Modern Art Museums in Valencia that Are Very Worthwhile Exploring
CaixaForum
In Valencia, we went to Fundación Bancaixa and were hugely enthusiastic about it. I expected that CaixaForum would provide a similar experience, given that the name had similarities.
Unfortunately, our visit was a disappointment. One floor was closed. This often happens to us, last time for instance in Bilbao's Guggenheim, but it usually results in a reduction in the entrance fee.
The exhibition on 3D printing was supposed to be full of working examples, which unfortunately were all broken. The grandly announced Estrella by Miró was a carpet that we could also have seen without an entrance fee. All in all, our visit was unfortunately very disappointing.
Floating brick
CaixaForum is on the route between Museum Reina Sofia and Museum Thyssen, so be sure to pass by anyway. Outside is Patrick Blanc's interesting Vertical Garden. The building itself is an old power plant that has been renovated in an intriguing way.
The building seems to float above the ground and the contrast between the bricks in the lower half and the rusty plates above is captivating.
Inside, the entrance staircase and the hall can be seen without paying an entrance fee and looks marvellous.
First, check out which exhibits there are and if they seem worthwhile. € 6 entrance fee is not a huge amount, but still is a waste of money if it is disappointing.
Spanish only
A peculiarity of many Spanish websites is that they are only in Spanish and/or the regional language such as Catalan or Valencian. Understandable for local businesses, but very strange in big cities full of foreign tourists.
My opinion about CiaxaForum won't change for a while I'm afraid, LOL, because their website is also in Spanish only. Use the Google Translate extension in Chrome if you need a translation.
Related: Discovering 3 Fascinating Cultural Hotspots in Tilburg, the Netherlands
Museo Nacional Thyssen-Bornemisza Madrid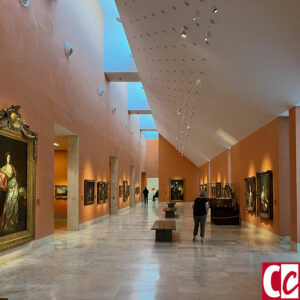 Museum Thyssen-Bornemisza is located in the neo-classical former Palacio de Villahermosa.
The basis of the art collection was laid by Heinrich Thyssen-Bornemisza and his son Hans Heinrich Thyssen-Bornemisza. In 1993 the latter sold most of his art collection to the Spanish state.
The museum consists of 3 immense floors full of art from the permanent collection, as well as regular temporary exhibitions by big names that attract the public.
The last time we were there this was a great exhibition of work by the painter Lucian Freud.
European art from the 13th to the 21st century
If you want to get a good overview of the development of art in Europe since the 13th century, you should definitely see all floors and start on the second one.
If you only like modern art, the ground floor will suffice. I can assure you that that alone is overwhelming enough!
The basis of the collection may be a private collection, so it depends on the taste of a few people, but they clearly had an eclectic taste.
Temporary exhibitions
The 1st floor was partly dedicated to a temporary exhibition and part of the permanent collection. Regularly rooms are rearranged or changed.
The main temporary exhibition is in a separate wing and usually has a time slot. That means you have to enter within 15 to 20 minutes of your allotted time.
As you can see in my video it can be very busy in the Thyssen museum. As far as I'm concerned, that's the only drawback of the large, well-known museums: the crowds.
The entrance fee is respectively 13€ or 9€. Museum Thyssen-Bornemisza too has free admittance at times, so check their website if you are interested in the timetable.
Related: 3 Spectacular Buildings and Modern Art in Bilbao, Spain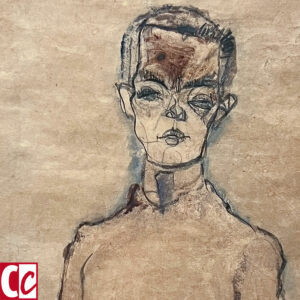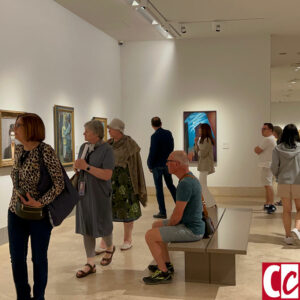 Sala Alcalá 31
The best discovery on our last visit to Madrid was Sala Alcalá 31. A former bank building that has been converted into a freely accessible exhibition space.
The Madrid City Council manages the building and aims to promote the appreciation of modern art.
We were lucky enough to see again work by our great hero, the Spanish sculptor Juan Muñoz. Last year in Santander we saw sketches and a few sculptures, this time the emphasis was on his sculptural work.
Since Sala Alcalá 31 is a municipal initiative "of course" the website is only in Spanish, *sigh*. I guess I should stop being surprised by that.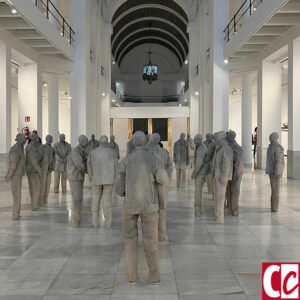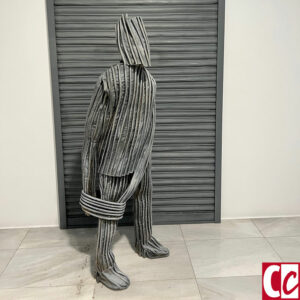 Matadero Madrid, Centro de Creación Contemporánea
Another spectacular discovery on one of our visits was the Matadero Centre. It is further away from the buzz, half an hour's walk from Atocha in the opposite direction of all the major museums.
Matadero is the former slaughterhouse and cattle market of Madrid. There are no fewer than 48 buildings. Not all of them have been renovated and put back into use. Some are still broken and ruin-like, yet that also has its charm.
There are various exhibition spaces and there is a marvellous restaurant with an alternative menu, where you can enjoy a delicious meal.
There are all kinds of cultural activities, as well as spaces for artists-in-residence. The area is also perfect for just strolling around the inner streets and squares.
Related: Zollverein Essen and More Industrial Heritage in the Crammed Ruhr Area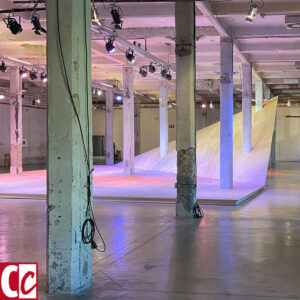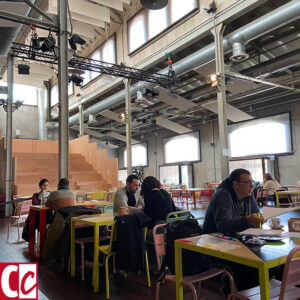 Have you been to Madrid? Tell me what you saw in the comment box below.