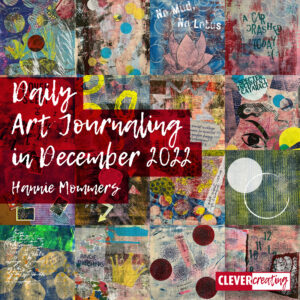 I gave myself a challenge, an assignment to make a collage daily. For half the month I was ill (Covid, grrr). I did make collages some days, but on other days I had to skip.
Inspired by a friend who followed a course in art journaling, I too put some first steps on that path.
The main difference with the November collages is the text and the date stamp I added.
It's great to see the art journal pages of others to get inspired. Look at my Instagram account and click the hashtag #artjournal or #artjournaling. (In the first comment of my posts).
My collages as art journaling in December
The difference between a journal and an art journal is the method. A journal usually consists of text, with at most a diagram or small drawing. In an art journal, the focus is on the image, which can consist of photos, drawings, or mementoes, with or without text.
I made my art journals with backgrounds of Gelli prints. This isn't a requirement, of course. You can use anything or any technique you like. That's what I like most about art journaling: there are no rules.
Related: My Gelli Prints and Collages in November 2022