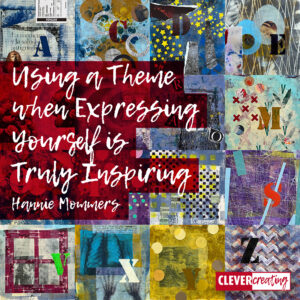 My inspiration often comes from working on a theme. In photography, drawing, painting, and making collages it's a great way to keep getting ideas and expressing yourself.
You might know that my personal challenge at this moment is making a daily collage for a year. I didn't start on January 1 but at a moment when the idea came to me. And I am not too rigid that it really has to be each day because, as we all know, life sometimes comes in between.
At the start, I just made collages. Yet, to make 365 collages without any underlying thought doesn't keep being interesting. After a couple of months, I developed a subtheme dedicated to one month. Like art journaling, printing pictures, or making stencils.
Some of the links are affiliate links. As an affiliate associate, I earn a small commission when you purchase any of the products offered through the shared links at no extra cost to you. This helps me to maintain this website and I thank you for supporting me.
Expressing yourself using a theme
Expressing yourself in any form is a great way to lead a satisfying life. Using a theme keeps the inspiration going and leads you from one step to the next without effort.
Themes are an endless source of ideas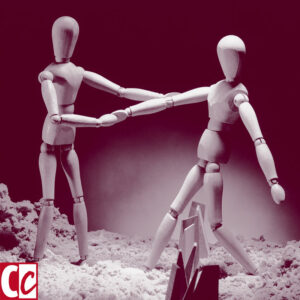 In my working life as a graphic designer, I used themes for specific clients and in my free work.
For example, for a client who provided care to troubled people, we couldn't include real people in the photos because no one wanted to be recognizable.
We made arranged photos with wooden mannequins for each brochure or advertisement. That way it was clear that their objective was to help people without branding anyone.
Another advantage was of course that it was easier to position the wooden figures as we wanted them, instead of having to direct someone.
Related: Intermezzo – Get Inspiration from Creativity
Staircases
Another client was concerned with taking people and their careers to the next level. For him, we had several photos of all kinds of stairs as illustrations.
It doesn't have to be complicated to be distinctive.
Free work
A graphic designer cannot always do his or her thing. Customers often have strong ideas about what something should look like.
That straitjacket is part of a graphic practice, but it can sometimes cripple your creativity. Whenever I had time to spare, I made free work.
That always had to do with my profession. So I didn't paint freely but made designs that were suitable to be multiplied.
And just like my May theme for the collages, the starting point was an alphabet.
Related: What is a Great Theme Photography Idea for a Holiday Abroad?
My May theme was the alphabet
When I was making the collages with stencils I cut out an alphabet. For each letter, I made up a corresponding word, which gave directions to how I constructed the collages this time.
Have a look at my Instagram account for more examples. You will not only find gelli prints but also cyanotypes, another possibility to work in themes.
Related: Gelli Plate and Stencils Make Interesting Combinations