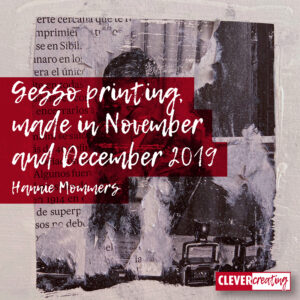 Being creative is very important to me. Oh wait, I think it's important for everybody. 🙂
The gesso printing technique is pretty easy once you get the hang of it. And it's a perfect hobby.
What I like about working with newspapers or magazines is, that I get not only a picture on the paper, but that I can leave parts of the front side of the paper intact. That way it's a mix between a monoprint and a collage.
The prints are part of my personal challenge in 2019 to create daily.
Gesso printing
Gesso printing is a way to transfer images and text onto paper. It's a creative technique that lends itself perfectly to experimentation.
Gesso printing is a great technique
A subject with clear lines works great for a gesso print. I have read that laser prints are the best to use for a gesso print, but I don't have a laser printer anymore. Hence I use my inkjet printer.
I get extra colouring as a coincidental present, which I never would get with a laser printer. So I am quite satisfied with inkjet prints.
I have used laser prints in my ceramics, so I know the characteristics. And yes, at times those are better than inkjet prints. Which makes both systems interesting.
Related: My Collages in September 2022