Two loves combined, photography and abstract art
A couple of years ago I discovered the app Hipstamatic for my smartphone. It was love at first sight. I even have to admit I wanted the iPhone4 at some point to have bigger photo dimensions.
My Canon camera is my companion on some occasions, but my phone is always with me. And Hipstamatic adds a lot of fun on using the phone for photography. The camera of the phone doesn't quite live up to my standards for a decent picture, but since the Hipstamatic app that is faking to be an old-fashioned plastic camera, that argument is off the table.
I think it's really funny that with nowadays technique, there is this app that adds dust or extreme vignette to my pictures. It was a no go in the old days and now it's allowed! What do you say!
Picture: Colored lights hanging on the ceiling made fantastic shadows.
What is Hipstamatic?

This is how the screen of my phone looks
This app puts filters over the pictures. You only have a partial control on the result by choosing from different lenses, films and flashes. For example, if you choose the lens Lucifer VI and the film DC, you know there will be a huge vignette and a lot of red haze in the picture. But you don't know the exact position or the strength of it. For a perfectionist as I am, it's very surprising that I can appreciate this randomness.
It always makes me laugh that at times I have my heavy and expensive photo gear on my back and busy myself with this couple of dollar costing app. And what I really think is hilarious: after taking the picture I have to wait for "one print developing" endlessly.
(I am not sure this app is also available for Android users. If you know, I would appreciate it if you put it in the comments below.)
The real thing in 1968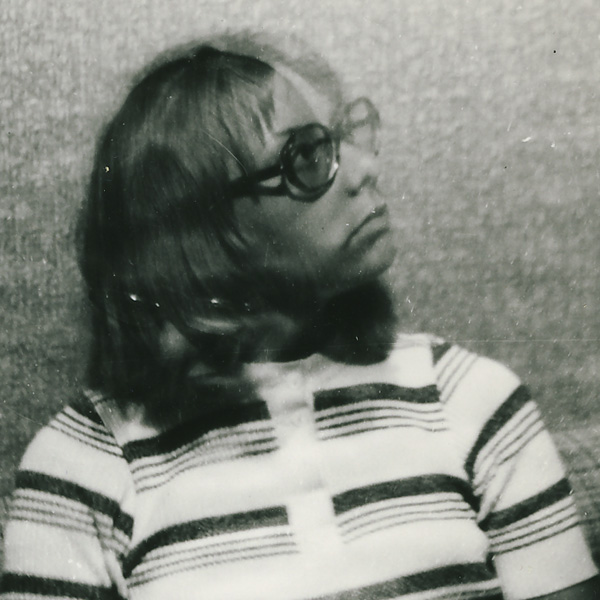 Me, taken with my old ClickII
Different framing
The film also determines the cadre that is used

Bag with hinges
Abstract because of the alienation.
Reflections can distort
One of my favorite themes, reflections

Detail of a work of art by Anish Kapoor
Abstract because of the deformation.
What is an abstract image?
You can not see what it depicts

Light filtering through textured glass
Abstract because of the point of view.

In my opinion it is not a coincidence that abstract art is about as old as photography.
Artists had been occupied for centuries trying to capture reality by mastering the rules of perspective, capturing the different materials, painting the right colors. And then came photography and it was suddenly possible to gain that result in one second. Very frustrating.
Abstract is the opposite of figurative. In an abstract work you can either hardly see what is depicted or there isn't anything at all that derived from reality. A painter like Mondrian abstracted trees to the compositions in red, blue and yellow we know. While someone like Rothko studied the influence colors had on each other by painting fuzzy rectangles.
Photography has always something of the reality to begin with. The abstract results from a specific point of view or from blurring because of movement and from filtering the way Hipstamatic does.
Searching the right combination
Often I try several lenses and films before I am satisfied

Snow on the board walk
Abstract because of the proximity.
Some of my favorites
Not by definition
Hipstamatic is not synonymous with abstract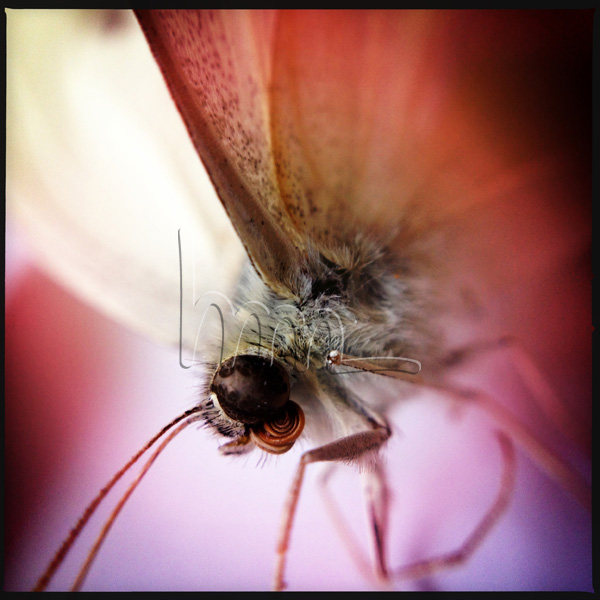 A moth. I do have to admit,  it was dead when I took this picture of it
Do you use your smartphone as a plain camera or do you always edit the pictures with an app?