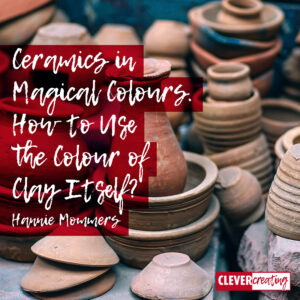 Decorating your ceramics can be done in many ways. Your clay object can be glazed or painted with engobes and underglazes. Even screen printing or applying transfers are possibilities.
A pure way of working is using the colour of the clay itself with at most a transparent glaze to emphasize the colours and make the object watertight.
Clay has different colours depending on the substances in the soil of the quarry. The clay you buy in the shops usually has only a few colours: it's white, red, or 'black' (rather dark brown) after firing. Due to the industrialized process, the tones are generally the same every time.
Some of the links are affiliate links. As an affiliate associate, I earn a small commission when you purchase any of the products offered through the shared links at no extra cost to you. This helps me to maintain this website and I thank you for supporting me.
How to use the colour of clay itself?
A ceramic object in its own colour, if necessary glazed transparently to emphasize that colour, has a charm of its own. Different colours of clay can also be used side by side or mixed.
Dutch Design in a pure form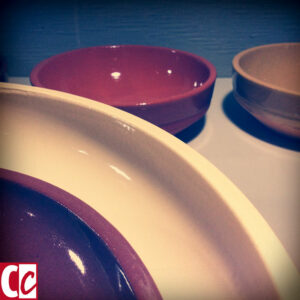 Since the 70s Dutch Design is a major export article. And that design covers all areas, like graphic design, industrial design and architecture.
Some great schools were accountable for the high level of their students. To name a few: the Delft University of Technology, the Design Academy Eindhoven, and the Academy for Art and Design St. Joost in Breda.
I had my education at the Academy of Visual Arts in Tilburg and at St. Joost, where I learned to have an inquisitive attitude. And it gives me a real boost if I see this spirit in others.
Clay is in the ground
Nowadays, some young people think every item comes from the store or the factory. They see no connection with the soil or with the cultivation of the land.
I once was at an exhibition of homespun wool and what I remember most of that exhibition is that one of the participants said she had discovered that sheep eat grass in the meadow! Duh!
On the other hand, of course, there is also a large group of young and older people that want to live consciously in regard to the environment and consider how fragile our planet is.
When you are a designer and you are interested in sustainability you might want to do the same as this Dutch girl did. Lonny van Ryswyck decided to go back to the roots for her graduation project for the Design Academy Eindhoven.
Sheer clay, pure colours
Armed with a bucket and a shovel, van Ryswyck travelled through the Netherlands and scooped clay in different regions. These regions used to be areas of clay extractions for household and industrial purposes.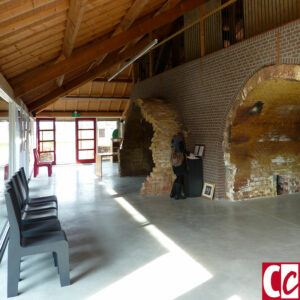 For example, Makkum, in Friesland, the north of the Netherlands, was famous for its tiles in the 17th century. Or Gilze, which is near my hometown, used to have large brick factories.
Clay consists of minerals with traces of metal oxides and organic matter. At each site, the clay has a different composition, which will result in different colours and a different degree of shrinkage.
Van Ryswyck did a meticulous examination of these varieties. She made a study of the composites, so now she knows what causes the colours.
Related: Dyeing with Plants, a Natural Way of Colouring Fabric or Paper
Can green be commercial?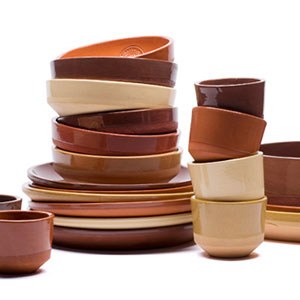 A couple of years ago I heard Lonny in a lecture. She is really passionate about her work and rightly proud of it. And I am so happy for her that a factory – Koninklijke Tichelaar Makkum – has taken an interest in her designs and has put it into production.
She made equally sized moulds for each colour of tableware, thus making it visible that the shrinkage varies. The end result is a ceramic set with a beautiful variation of brown, ochre and white of which not one pair has the same size.
To top it off she stamped the names of the regions in the objects. You can imagine why I, as a former graphic designer and ceramist, was so delighted to see this project and its end products.
If you dig clay you can also dug it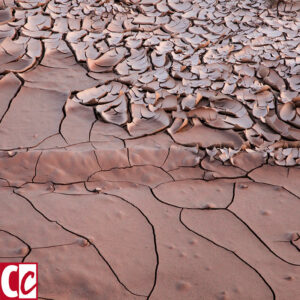 Going back to the roots and being sustainable yourself, is surely a possibility. It's not that hard to shovel your own clay and prepare it.
Dig up clay from a field or from an area near a river;
Let it rest outside for the winter season. This is called 'let the clay rot';
Break it into small pieces and ground it;
Add water and sift it in order to remove plant debris and little stones;
Let it rest for a while and pour off the water that forms on top;
Let the clay dry to a kneadable thickness. You can do this by either warmth or spreading it on plaster plates;
Knead or grind it into a uniform composition;
Store it cool and moist;
Before working with the clay you can add grog or paper to your liking. Depending of course on what you want to make with it.
Related: The Inspiration, Process, and Results of my Abstract Ceramics
Various ways to decorate with just the colour of the clay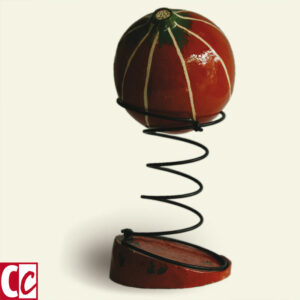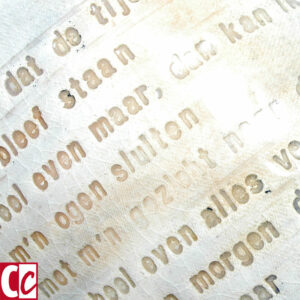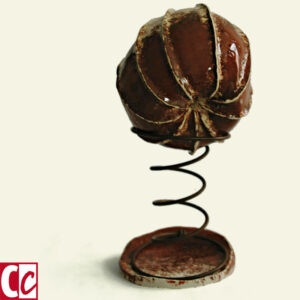 You can use the texture of the building technique with rolls or slabs, as I did in my big "Reaching for the sky"-series.
Related: How to Make the Perfect Clay Rolls with an Unveiled Secret Solution
Pressing stamps in the clay is another great way to decorate.
For a series inspired by nature, I carved the surface when the object was leather-hard and filled the grooves with a different colour of clay (see picture on the left above).
From leftover clay, I made an engobe, so I could paint parts in another colour, as you can see in the shape inspired by Physalis (see picture on the right above).
Do you have more ideas on how to decorate with just the colour of the clay? Tell me in the comment box below.
This article is an update. Originally published on 3-05-2013.