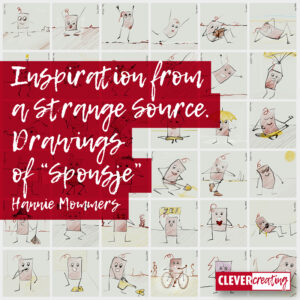 In 2019 I had an intention to make a drawing daily. At times it was a challenge to get inspired.
Luckily, I saw the sponge lying on the kitchen sink and had to think of SpongeBob.
Why not create my own figure, I thought. As you see, inspiration from a strange source is possible.
The nice thing was that I could try to portray both feelings and activities. Fantastic. I made the drawings in the app Procreate.
All works are part of my personal challenge in 2019 to create daily.
Inspiration from a strange source
We can look for inspiration in all kinds of places, even in the kitchen.
Even when I know what form and technique I am going to use, it can be a challenge to come up with the way in which to draw. I let myself be inspired by what I did on that day, or what I saw during our daily hike, or by how I felt.
Related: What is a Great Theme Photography Idea for a Holiday Abroad?