Whatever hobby or business we have, it is great to share our passion with the world, isn't it? We can do this on a website or blog, and/or by using social media.
Posting to all the different available social media can be a very time-consuming activity. To make our lives easier in that regard, we can choose from different programs and platforms, like Tailwind, Hootsuite, Pallyy, and many more.
Is Tailwind good or bad to use for that task? After a year of working with it, it's time for me to evaluate what the pros and cons are.
Some of the links are affiliate links. As an affiliate associate, I earn a small commission when you purchase any of the products offered through the shared links at no extra cost to you. This helps me to maintain this website and I thank you for supporting me.
Is Tailwind good or bad?
Tailwind is perfect for posting on Instagram, Pinterest and Facebook and comes with a design feature to make our work easier. However, you can't post on other social media (yet?).
My experience with Tailwind
Some time ago I did a Udemy course to learn more about Pinterest. That was the first time I heard about Tailwind.
I had already discovered that scheduling on Pinterest is only possible within the next 30 days, which was a disadvantage for me.
So, Tailwind came at the right time for me. When I started, Pinterest was the only social medium featured in Tailwind but soon Instagram and Facebook were added. And I expect more will follow in the future.
What I like about Tailwind
Any new program needs some learning time. For me, the learning curve to discover the ins and outs of Tailwind was fairly steep. Although I did need the helpdesk in the beginning.
Helpdesks are vital for any business in my view. Overall, Tailwind's helpdesk is good. Most of the time, they answer quickly so you can move on with whatever you were doing.
As you noticed, I said 'most of the time'. Not that it influenced my opinion very much. My questions weren't urgent when they didn't reply quickly.
Plus, it has been ages since I had any questions for the helpdesk. I was always able to resolve minor issues, if there were any, by reading the help files.
Tailwind Dashboard
In the home screen of Tailwind, you get an overview of the possible tasks you want to perform and the already scheduled posts.
The scheduled posts are ordered in a calendar layout, so it's clear at a glance which posts are published or upcoming. And you can easily see which days could do with more posts.
The menu is on the left side, where you can find all the options. If you work on a desktop that is. In the mobile app, that is also available, it's a bit different.
Designing posts
Designing posts is quite easy. You don't have to worry about the different measurements that are required for posts, pins, or stories. Tailwind does that for you.
Start by adding your brand information: your web address, preferred fonts, and corporate colours. And add your logo or logos. That way, you have consistency in the posts, despite the layout you choose.
After that, either upload your own photos or use the stock photos that are available in the program.
Tailwind will offer several layouts from which you can choose, using your brand fonts and colours. Select one or more posts you like and edit them by adding the correct data.
If you don't like a decorative element, change it. The Elements gallery offers a huge choice of shapes, lines, arrows, and borders.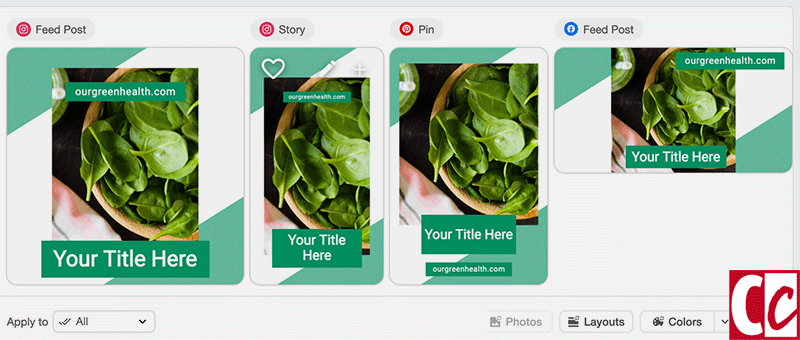 A huge advantage is that when you're done, you can apply the design to the other formats in a breeze. It might be necessary to change the font size or colour, yet this way there is a huge consistency in all your posts.
It's also possible to use designs that are made in a different program, like Photoshop or Canva.
Related: ​​What is Canva Used for and 5 More Important Questions
Scheduling posts
Scheduling can be done right away after finishing the design or later. When you're working on a post the design is saved as a draft, so you can stop and continue whenever you like.
Tailwind suggests the best times to publish your content. When you have just joined these times are based on best practices. When Tailwind learns about your followers, the suggested times are based on the times most of your audience is online!
Pinterest
If you want to pin a web post on Pinterest, that post needs to be already published. Meaning you can't work in advance.
For me, that is another advantage of Tailwind. It is possible to schedule ahead as far as you want. Very practical if you want to go on a holiday.
With Tailwind, you can also pin or share content from other people following the suggestions you get.
It's possible to pin to several of your Pinterest boards with an interval. The available interval types are Open Time Slots, Optimized, or Exact.
Instagram
People can't click on any link in an Instagram post. I think that's a loss. The more, people have to click through or type texts to get somewhere, the less likely they are to do so.
Tailwind offers Smart.Bio to link every post to, which also includes buttons for your main offers.
You can save lists of hashtags for quick use. Tailwind suggests hashtags based on your caption and already used hashtags. Those suggestions are marked with colours to indicate the value: niche, good, best, competitive.
Pros
Good helpdesk;
Steep learning curve;
Calendar overview of the scheduled posts;
Easy to change scheduled time or date;
Design tool;
Branding tools;
Applying chosen design to several formats;
Save designs as favorites;
Scheduling far ahead;
Scheduling in advance;
Warning if you have used a Pinterest board before;
Suggested times for scheduling;
Pinning in intervals on Pinterest;
Smart bio in Instagram;
Saved hashtags lists;
Hashtag suggestions;
Mobile apps and web extensions;
Start for free to test the waters.
What I like less about Tailwind
Design
If I change too much of a layout I chose from in the design gallery, I have to alter more in the designs for the other social media than I would expect or like.
At times the chosen colours are not even my brand colours.
Scheduling
The published posts on Instagram are visible, yet reposting is not possible. The published Pinterest posts are not even visible.
Leading up to the change of daylight saving time and vice versa, automatic scheduling is messed up. Although it is easy to manually adjust days and times, it is inconvenient.
Cons
Unlogical changes when applying a design to several formats;
Scheduling is unavailable for posts that have several images;
At times slow responsiveness;
Unable to repost;
Bad handling of DLS time;
Not enough plan choices.
Conclusion
You might have noticed I hardly mention Facebook or the Tailwind Communities. Currently, I don't use those features because I don't need them or don't want to spend time on them.
That's why I would love more plan choices.
Anyway, it's marvellous that one can start for free to get a feel for the program. As you can see I have listed more pros than cons so I definitely recommend it.
Do you use a scheduling program? Tell me in the comment box below.