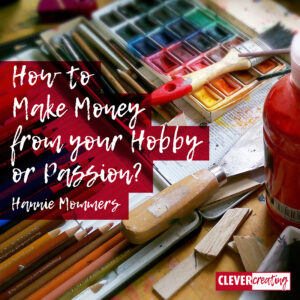 In 20 Ideas on how to make money after retirement on another website, I offered some possibilities to earn extra cash. But what if you have no idea how and where to start to make money from your hobby? I'll give you some ideas here.
One of the most important conditions is that you are creative in coming up with possibilities.
"But I'm not creative at all," I hear you say. Well, that's the first thought you should let go of. Everyone is creative, for the simple reason that you are not born with it and can develop it.

In an adaptation of Edison's quote:
"Creativity is 1% inspiration and 99% perspiration".
Some of the links are affiliate links. As an affiliate associate, I earn a small commission when you purchase any of the products offered through the shared links at no extra cost to you. This helps me to maintain this website and I thank you for supporting me.
Make money from your hobby
No matter what hobby you have, there are always ways to monetize it. Brainstorm ideas on your own or with a friend and make lists of the possibilities. You may be surprised by the opportunities!
Be passionate about your hobby
The number 1 condition is that you are a raving enthusiast of your hobby. Everything else comes second. Your enthusiasm will seep through everything you will tell, write or show about the subject. And enthusiasm is contagious.
Do you know all the ins and outs of your hobby? That's a nice bonus. Ditto for being a true craftsman or -woman. Or from always getting the best results.
However, knowing everything is not a condition. Believe me, nothing beats passion. You'll notice once you are going to tell others about your hobby, you'll want to investigate things thoroughly. Being curious and open-minded is a better starting point than knowing it all.
How to start – the practicalities
You need a channel or medium through which you reach your audience. This can be a brick-and-mortar construction, such as a shop. But then you will need to invest a lot of money. So, let's keep it digitally to keep the initial costs down.
The cheapest way is to start on one of the social media. Choose one and concentrate fully on that one. It's no use when you are just starting to join all of them. It will dilute your attention and thus your results.
The disadvantage of social media as a channel is that its policy can change from one day to the next. Or they can stop altogether. Making you lose all your content. Be sure to have backups of your content on your own computer or in a cloud.
Related: Is it Absolutely Necessary to Have a Facebook Account?
Own your content and your assets
It is safer to have a website of your own as your digital asset. This will mean the costs of a domain and/or hosting. There are several free methods to start, for instance on wordpress.com. Just make sure it's easy to later switch to a domain of your own if you choose a free option.
Related: 3 Free Ways to Start a Blog: Blogger, WordPress, Wealthy Affiliate
Another digital asset you need at some point is an email list. THE motto on the internet is "The money is in the list". For that, you need a mail provider. A free option is ConvertKit, which allows you to have 1,000 addresses before you have to switch to a paid account.
Now what to do next?
Once you have decided about the medium you are going to use, in other words the 'where', you have to decide on the 'what'. And yes, I know, the what is your hobby. But that's still quite generic.
Let me give you an example to make it clearer. Let's say you are a fanatic sculptor. What are you going to share about sculpting?
Are you going to show pictures of beautiful statues? Or do you want to tell about the tools one should use? Or what the differences of the materials are?
In the end, it might very well be that you are going to talk about all of the above, but your task of making content is so much easier if you unravel your topic first in a couple of main subtopics.
Make a list of all the keywords related to your hobby you can think of;
Browse the internet for websites about your hobby to get inspiration for even more keywords;
Group them.
You have to decide on the form
The form will influence the choices of the medium you make. I'll give examples in the list. Keep in mind that I mainly give examples about Social Media, but almost all items on the list can be on your own website as well. These are examples to inspire you and get your grey matter in motion. 🙂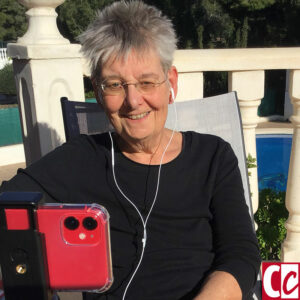 Tell about your hobby
You can write articles on a Facebook page. Make blog posts on your own website. Write guest blogs for others. 
Show what you made
You can show a method or a technique by making lots of pictures that you put on Instagram or Pinterest. Or better yet, make a video of it and put it on YouTube.
Sell your products
Facebook has a 'Marketplace' where you can sell. You can have your own webshop. Physical products will give more hassle than digital ones, although there are ways to hand over that hassle to someone else or a company.
Sell the materials that are needed
Affiliate marketing is a great way for that.
Teach about it, so others can practice it themselves*
Webinars or masterclasses are a great way to share knowledge by using Zoom or Facebook Live for interaction.
You can make assignments that people will have to do and then show you for feedback, either on Zoom or Skype. 
* If you want to teach people what you do, then try to think of the different ways people learn. Some people want to see, others would rather listen and some need to touch. The last aspect is a bit difficult on the internet, the first two are easier to accomplish.
In short, the where, what and how: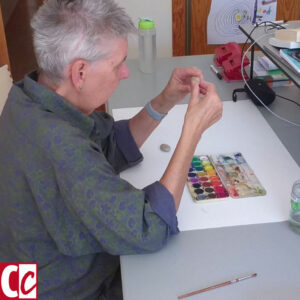 Where – which medium are you going to use?
What – what will your content be about?
How – will you write, lecture, give demonstrations, let people participate?
It seems so little, doesn't it? Just 3 items, how hard can it be? Yet I know from my own experience that you will have to make many decisions and it will be hard to decide on what to do first.
I am part of an online community. If you are serious about making money from your hobby then my best tip is to join us. The free version includes a course of 20 lessons that teach you step-by-step where to start and what the best methods are.
You will get every opportunity to practice writing, make a website and publish your content. While being part of a friendly and helpful worldwide community. And with me as your coach to ask all your questions. 😉 Email me if you have any questions!
Tell me in the comment box what you are going to rave about!