My personal challenge of 2022/23 to make a collage (almost) daily sparks a lot of creativity and inspiration. The easiest way to work on a collage is at home where I have all my materials and tools, making it extra challenging when we go on a trip. How do I make a collage then?
Last year I solved that 'problem' by taking lots of pictures and either making a Canva collage or collecting small items and putting those together in an assemblage. The end result was a photo.
This time I planned to make collages in a creative travel journal, where I wanted to include more elements of a day.
Some of the links are affiliate links. As an affiliate associate, I earn a small commission when you purchase any of the products offered through the shared links at no extra cost to you. This helps me to maintain this website and I thank you for supporting me.
Making a creative travel journal
Expanding your travel diary with creative expressions is a wonderful way to give extra meaning to the memories of a trip.
Writing or drawing in a travel journal?
My husband and I have been writing in a travel journey ever since we made a big trip to the USA some 30 years ago. I already kept a travel journal before that trip but it consisted only of the exchange rates of the countries we passed through and the petrol and toll prices. We hardly looked at those notes afterwards.
That changed when we wrote more extensively and consistently about our days. If we travel nowadays, we pack all the journals and regularly read back to compare activities and sites.
For ages, I also packed a pencil, a small paint box with a brush and a watercolour block. Yet for some reason, I rarely drew or painted anything and brought the block back empty.
Planning ahead
I definitely wanted to make a creative travel journal on our last trip, apart from the writing that we do both. It wouldn't happen again that I brought back an empty block. And my journal was filled every day, I didn't miss one, probably because I planned better this time.
The journal was not a purchased notebook, but a do-it-myself book. I imagined how many days we would be away to determine how many pages I needed.
Collecting scrapbook items
For the first few days, I collected magazine photos and drawings of possible situations that might arise. For example, a photo of a traffic jam: we were travelling by car, so we would definitely get into a traffic jam at least once. 😉
I also made a small collection with several pieces of decorated paper, stickers and painted paper tape. And of course a pencil case with all kinds of tools.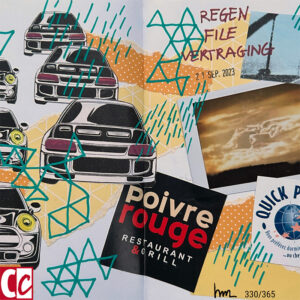 So much information is digital nowadays
What I had not taken into account was the amount of brochure material I would collect along the way, or rather, the lack of material.
Cafés, restaurants and shops no longer have printed material. Too expensive and too static, it is much easier to refer customers to a website or Facebook page.
Is including text necessary?
On most pages, I didn't add a lot of text because we also have our written travel journal. It's a matter of choice whether you want to include lots of text or not. For me, the emphasis was on the total image.
What went well?
I had anticipated that at times it would feel like a burden to make an impression of the day, yet that wasn't the case. It was great to have my 'task' in the back of my head all the time.
During the day I took a lot of pictures and collected stuff like entrance tickets and museum brochures. At the end of the day, I spread everything around me and made the collage. That took me half an hour to an hour.
A small printer to include my own photos on the pages was not a must, yet very nice to make it more personal. I even got used to my Poooli printer that I used to hate because of the bad quality.
There were not many tools I didn't use, nor did I miss anything.
What needs improvement?
The size of my journal is 12×16,5 cm or 4,5×6,5 inches. Next time I'll make a bigger one, a larger size gives me more space to play around with.
The inside paper is 120 grs drawing paper. It would have been better to have a heavier multi-media paper.
When I made the book, I didn't take into account that I would glue a lot inside, making it thicker. The end result is very bulky.
To glue tissue paper I like to use wallpaper glue. However, this takes too long to dry. Next time I will use matte medium.
Tips to make a creative travel journal
Plan as much as you can in advance;
Collect items that can be incorporated into your journal;
Take pictures or make drawings of the events;
Make your pages every day because if you wait too long, you'll surely have forgotten things;
Write, create an image or combine both;
Use decorative elements on days when you don't have a lot of material.
List of supplies I had with me
Aqua brush markers;
Black Pilot pens, S and M;
Clips;
Copic markers;
Date stamp;
Decorated paper;
Flat brush;
Folding paper;
Highlighter;
Instax printer for polaroids of 4,5×6 cm;
iPhone;
Labels, blank and edited;
Magazine photos;
Pencil;
Pilot pens, gold, silver, white;
Poooli printer for black&white images;
Posca markers;
Pritt glue stick;
Round brush;
Scraps and leftover paper and text;
Small cutting mat;
Small scissors;
Small triangle;
Snap-off knife;
Spray bottle with water;
Stickers;
Tissue paper, coloured or copied with patterns;
Transparent pencil case;
Wallpaper glue;
Washi tape;
Watercolour paint box.
I chose about 3 colours for the different markers and colour pencils.
The glue stick turned out to be too small, so I had to buy another one.
Not or hardly used:
Edding marker, white;
Eraser pencil;
Paper clips;
Transparent adhesive tape;
Wallpaper glue;
Watercolour pencils and Karisma pencil.
Making a creative travel journal is so much fun!
Whether you only write or make images as well, it is such a lot of fun to work on a travel journal during your trip. And the bonus part is that you won't solely have the memories in your head but substantial evidence to show people.
Do you make travel journals? Tell me in the comment box below.