Taking pictures is narrowing your view in a good sense. Looking through the square hole makes you focus on composition, colour and details of what you see. It's all about making choices.
When I was 12 years old I got a camera from my granddad. It was an Agfa, that I know for sure. But I am not sure anymore whether it was a Click or a Clack.
All these years I was convinced it was a Clack-II, but googling pictures of it made me wonder. The image in my memory resembles more of the Click-II.
Well, whatever. Since then, photography is my passion, so I am still very grateful to my grandfather for that. The camera was a little plastic one, with just 3 choices (sun, half-clouded, clouded) and I could make great pictures with it.
Some of the links are affiliate links. As an affiliate associate, I earn a small commission when you purchase any of the products offered through the shared links at no extra cost to you. This helps me to maintain this website and I thank you for supporting me.
Photography is my passion
Taking pictures is important for numerous reasons. Almost everyone has a smartphone nowadays with the possibility to take pictures. This way we can mark important events and get inspired to be creative.
Taking pictures inspires me
I am not a photographer by profession. Although I have sold pictures at times. What I like most about pictures is the infinite source of inspiration they are to me.
The actual pressing the button at the right moment;
Sorting, choosing, throwing away and keeping others after a shoot;
The editing and playing in Adobe Photoshop;
Organizing them in themes by tagging;
Making plans for the next day of shooting.
And of course, looking at exhibitions and books about other photographers and their work. My favourites are Karl Blossfeldt, an art teacher that made pictures of plants to teach about forms and shapes, Ansel Adams, a marvellous landscape photographer, Hans Aarsman, a Dutch photojournalist who writes real funny observations, Eva Besnyo, a social photographer and Ed van der Elsken, also a social photographer.
LOL, come to think of it, looking at their names it seems I didn't get past the E in the alphabet, but that really is a coincidence! It's not a coincidence though that 2 out of 5 are social photographers.
The reasons why I take pictures
Pictures are great to remember events;
Making pictures makes me more aware of what I see;
I love editing pictures as a form of art;
I use pictures for educational reasons;
Pictures are my inspiration when I make my art;
I hang my pictures on the wall or put them on a shelf;
I love to capture emotions or beautiful moments in time that may just never happen as randomly perfect again;
It's a moment in time;
I put my photographs in my books;
As a photo diary.
Decorative pictures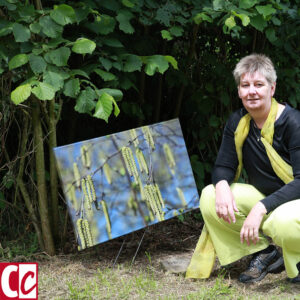 I have several canvases that I showed in exhibitions in the past or hung on the wall. It's great to choose some photos for a special place on your wall. If you are going to do that too, don't go for the cheapest supplier. Have an eye on the following aspects:
How is the quality of the canvas;
What kind of wood is used for the frame;
Are the colours UV-resistant;
Is the finishing touch a quality varnish?
Sometimes I used my canvases as an art project. One project, in particular, was really fun to do. I was going to have an exhibition in a big garden in June. The theme was 'Time'.
In January and March, I took a lot of pictures in that garden and chose 5 for a print on canvas. On iron pins, stuck in the ground, I could show the canvases on the spot where I took the picture, thus showing what it looked like a couple of months before.
Because of the pins, they were raised a little bit off the ground, so when it rained they wouldn't get dirty from spattering mud. Oh, glad you asked, yes, they survived the wet Dutch weather perfectly!
The camera is my best friend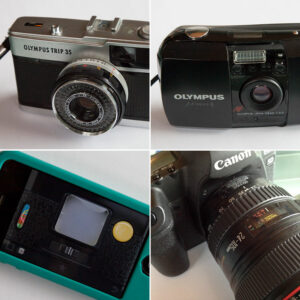 In my archive, most pictures show other people, not me. I love the camera as long as I am behind it. 🙂
I was trying to recall how many cameras I have possessed. The amount is amazing. I regret that I sold or gave away most of them. It would be a nice Memory Lane if I had them all on a shelf.
Because of the picture I wanted to make for this article, I rumbled through my drawers. The funniest thing is, that I discovered an analogue camera with a film in it. No idea for how long. The display said '19', so I had made 18 pictures.
I had no idea whether it was a roll of pictures or slides. I brought the roll of film to a print shop but the result was disappointing. The Fuji film – having a blue shade in itself – turned out to be too old. All the pictures are very blue and because of that, they look real faded. What a pity.
DSLR and smartphone
Nowadays I carry a DSLR (digital single-lens reflex) camera for large 'official' photos. And my iPhone for the fun photos. Do you know the app Hipstamatic? I adore it! It's an app pretending the iPhone is a plastic camera, like my ClickII. You can take pictures that have a light leak. Or are accidentally doubled or have stains on them.
Related: How to Create Abstract Photos by Using the Hipstamatic App
There are always new things to explore
Not all old knowledge became obsolete when digital cameras replaced most analogue ones. The rules concerning composition, use of colour, depth-of-field, or contrast still apply.
But any new technique or any new camera takes a lot of learning. I love it when things change and there is something new I can put my teeth in to try to master. And I also love to teach about it. Like for instance in this article about composition.
Mastering digital photography
In my photo library, a lot of books are written in the analogue era. Of the recent periods, most books are by Scott Kelby. He has written several books on specific topics, which I can really recommend. Basically, every page is a picture with a talk. In a clear way and very instructive.
Recently, I started a course at the iPhone Photography Academy to improve my iPhone pictures. Apart from teaching I like to be a student as well. 🙂
Numerous photographs that are all the same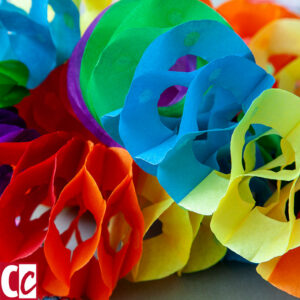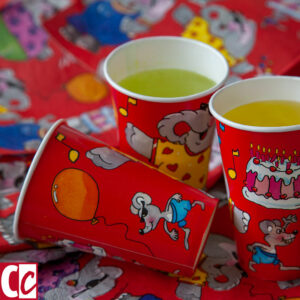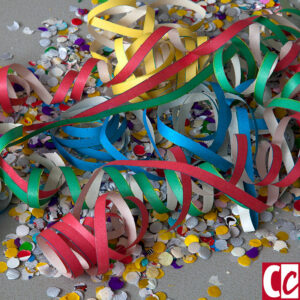 There was a period when I hardly took any pictures, except on special occasions. When we were on a holiday I bought postcards of the tourist highlights.
What was going on? I got frustrated that the postcards always looked better than my pictures. They were taken in better conditions, from a better position, with a technical camera.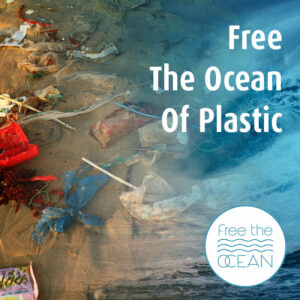 And I didn't see much point in adding a picture of the facade of the cathedral to the ones all my bystanders were shooting at the same moment as well.
Related: What is a Great Theme Photography Idea for a Holiday Abroad?
I regained my pleasure when I decided to have one main objective, one theme to work from. For example, my theme could be round or monochrome. One year all my pictures had to be taken in portrait mode. The theme could be five or contrast.
As you can imagine, the list is endless. I can really recommend theme photography. It is such fun to try to find images that fit your theme. And what's more: you will look at your environment in a different way than you did before.
Related: How to Stay Inspired in Photography? Of these 7 Tips, I Particularly Like #6
Be inspired
This article is my personal photography history. Hopefully, there is information that inspires you in your photography. Taking pictures is great!
Do you shoot a lot of pictures? Tell me in the comment box below.
This article is an update. Originally published on 1-03-2013.