Isn't it a pity that we tend to forget how to play? What do you think about playing on the beach for grown-ups? I can assure you that it is fun!
Years ago my former colleagues and I went to a beach house once a year to get creative inspiration.
We were all creative souls and we gave ourselves assignments to develop our creative skills even further. There I discovered again what fun it is to play on the beach.
The focus of the assignments was different each year. It could be flying objects or playing with the sand. Or we went beachcombing and made 3D collages out of the junk we found. And sometimes we would just draw because we all loved to do that as well.
Some of the links are affiliate links. As an affiliate associate, I earn a small commission when you purchase any of the products offered through the shared links at no extra cost to you. This helps me to maintain this website and I thank you for supporting me.
Playing on the beach for grown-ups
The beach can be for games like volleyball and badminton, yet it's much nicer to do creative stuff in the sand. Use your kids' toys to build sand sculptures or make patterns. Find inventive ways to build with what you find on the high tide line.
How can we express our creativity on the beach?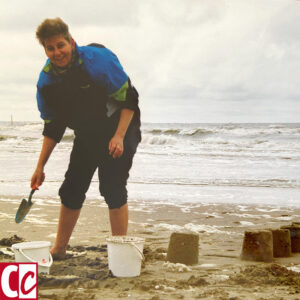 I'll give you some inspiration with a list and I hope you will add your tips in the comment box below. Because I am sure I forgot things. 🙂
Build sandcastles;
Write in the sand with a stick or finger;
Enjoy beachcombing;
Take pictures of textures;
Draw what you see;
Go geocaching;
Record the sounds of the surf or the birds;
Invent water games;
Make sand sculptures;
Collect seashells;
Photograph the objects you see;
Make a message in a bottle.
And yes, you can also sport, relax, read, swim and play beach volleyball. My objective here was to list activities that I think can develop creativity. 🙂

Every child is an artist. The problem is how to remain an artist once we grow up.
~Pablo Picasso
Take lots and lots of pictures!
You might know I love taking pictures. Either with my DSLR camera or with my iPhone. I not only enjoy just the moment itself but also the sorting, criticizing, and editing afterwards.
If you can't draw after nature when you are actually there, because you master not yet the technique or because the weather conditions are not good, then a photograph is a handy tool.
Both taking pictures and drawing develop your sense of composition, colour, and creativity in general.
Textures or structures
In my native language (Dutch), texture and structure in arts are often used interchangeably. The texture is what we feel when we touch a surface and can be a repetition. A structure is built from the inside up.
Isolating a small part of a surface focuses on its texture.
Wet sand near the surf has a different texture than dry sand near the dunes
A quiet sea has a different texture than a wild one with lots of waves;
A shell beach has a different texture than a single shell.
There are a variety of textures that can be photographed at different beaches. The beaches in the Netherlands have dunes, marram grass, breakwaters, and lots of sand. Those in Spain have pebbles, palm trees, and fishing supplies.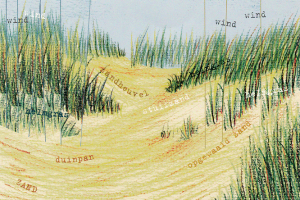 Colours
A simple image as just sea and sky has a different colour each day and even any moment of the day. Have you ever looked at the colour of the clouds and how they differ in the early morning and late evening compared to midday?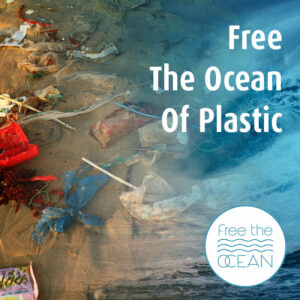 I love to look at the changing of all the greys on a cloudy day. How sometimes the horizon isn't even noticeable because the sea and the sky have the same colour. Or the gradual difference in colour from near to far.
Silhouettes
The vast and open space of the beach is an excellent place to take pictures of silhouettes. There will be less distracting forms in the photo than, let's say, on a square.
Another advantage is that people tend to follow the surf, giving you more grip on the composition and the events that are likely to happen.
Sandcastles and sculptures
Here in Spain, most beaches have pebbles, except on tourist beaches. They are artificially covered with sand every year and raked daily by bulldozers in high season.
An expensive affair that is often undone by storms. But the sandcastle builders are happy with it and make the most beautiful sculptures close to the boulevards.
With a groundsheet for the finished work, on which passers-by can throw a coin, they collect their daily pocket money.
There are even sand sculpting championships all over the world.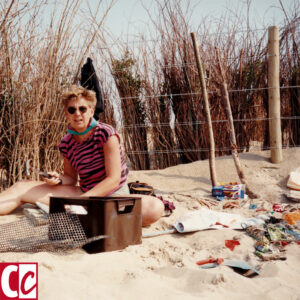 Our playing on the beach
Both my colleague and I are retired now and our employees have moved elsewhere or started their own business. So our creative days together are unfortunately a thing of the past.
We always called it a "labour camp" as if it were suffering. A lame apology to our clients who had to miss us for a few days.
Yet, it is great to create in a group. We cheered each other on and always tried to get just that little bit more out of it to stimulate and inspire each other.
And luckily we still have the pictures. 🙂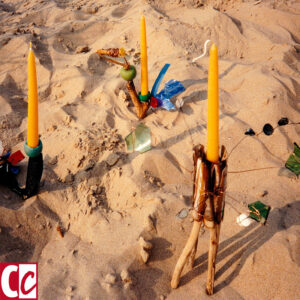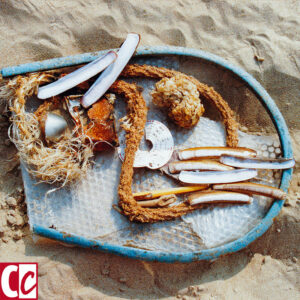 Have you played creatively on the beach? Tell me in the comment box below.
This article is an update. Originally published on 31-05-2017.