Not only food thrives in a smoke kiln
Years ago I participated in an art contest that had "Air" as its theme. I exhibited my work and gave a demonstration with a pit fire.
Smoke firing is something you can quite simple do yourself. You can actually dig a pit or you can build one with bricks. Nothing fancy is needed, at least for this part.
You do need bisque fired pieces. That might give you some trouble if you don't own an electric kiln yourself.
The solution is to either buy biscuit work or to ask a ceramicist whether he or she will fire it for you. I think it's worth the effort, but maybe I'm biased!

Fumes purifie (2008) – Installation detail by Hannie Mommers
1. Clay with a lot of grog
It doesn't necessarily has to be white clay, but I suggest a light color for the best result.
The clay I always use for this has 40% grog, which is more than the usual 25%. Clay that is suitable for Raku will do very well. If you can't buy 40% grogged clay, than make sure you choose a gross chamotte (0-2 mm).
Or – even more fun – make the clay yourself with clay powder and grog.
2. Bisque fired pieces
This can be pottery or abstract work
I always state that I am a ceramicist, not a potter. I am not that keen on making jars and bowls. Of course I can appreciate a well-made bowl, I just don't like throwing them myself.
For the contest I made over a 100 little figures with tentacles that had a resemblance with 'flying in the air'. The clay was either white or terra cotta red or a mix of those two, giving all shades of pink.
3. What else is needed
A short list
bricks
branches
dry leaves
sawdust
kiln plate
water hose (just in case)

I use sawdust from the pet department. The rabbits won't like it very much that I fire their bed!
4. Building the kiln
Never mind the holes, they serve as air valves
I adjust my brick oven to the size of the kiln plate. The amount of ceramic pieces to be smoked determines the height and can easily be adjusted with a row more or less. You can stack the stones together without the need to be very precise.
5. Decide which burning material you want to use
Big or small branches, leaves or sawdust
Your taste will define what material to burn and how much of it. You will need the branches to keep the fire going for a little while. The black color derives from a lack of oxygen, so big branches and leaves will make your ceramics lighter with more stains and spots, and little branches and saw dust will make your work darker and more uniform.
I layer the kiln like some kind of Lasagna. Branches, leaves, bisque, branches, leaves, bisque, branches, leaves, sawdust. The newspaper you see on the picture is to get the fire going, quickly and all around inside.
Light the fire and let it stew until the fire is finished.
I always say I can't cook, but this looks a lot like cooking, don't you agree?
6. Cover the fire
Any kind of fireproof material will do
7. Cooling down
Don't open the lid too soon
As you can see the figurines end up in a pile on the bottom, which means you have to think through the way of layering. It will take the branches between the bisque some time before they vanish, but eventually the top layer will go down. The smoother this process takes place, the more chance nothing breaks.
8. Wash up
Enhance the color with bee wax
Tip: if you are not satisfied with the way the pattern turns out, put the figure back in the electric kiln. It will come out pure white and you can start over.
The best way to enhance the pattern is by rubbing the figure with bee wax.
Preferably the old-fashioned one. Rub it in with a soft cloth. The result will be great!
Use a little sponge to apply the wax and an old cotton cloth to rub it until it shines.
You will have to repeat this process once in a while as the wax has the tendency to vanish in time.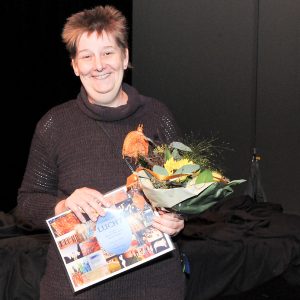 The installation Fumes Purifie
100 parts on the floor of a chapel
The visitors could not walk around it, but had to peak through the door. In a hidden alcove I burned incense. Given the theme was 'Air" and the installation was in a chapel this gave an extra layer to the entire piece.
Can you imagine how happy I was, winning the first prize!