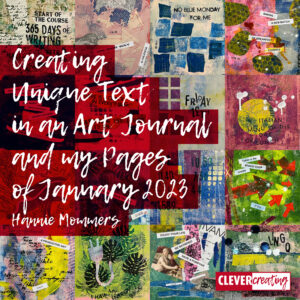 My personal challenge, an assignment to make a collage daily for 365 days, is almost halfway.
This month I focused on the combination of text and image. As I describe in another article, you can make text in many ways.
In some cases, very few tools are needed, whereas, in others, a bit more effort is required.
Either way, just as making images unleashes a lot of creativity, so does making texts. 🙂
Text in an art journal
You can make an art journal of mere images. Yet it's more common to combine images and text. The pictures can be abstract or decorative. Or they can be illustrative to enhance the text.
I have used several methods in this month's collages. You can also have a look at my Instagram account.
Related: Daily Art Journaling in December 2022