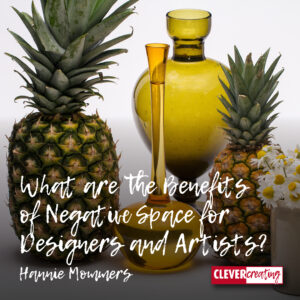 Negative space can indicate a toxic environment in relationships but that's clearly not what I am talking about here, since this is a website about art and design.
In order to draw well, we must be able to observe well. Fortunately, there are tools we can use to do this. Using negative space is one of those tools.
In art school, I learned in the lessons of still life drawing that the negative space is as important as the objects themselves. I got a lot of advantages from that lesson in both model drawing class and typography class.
Some of the links are affiliate links. As an affiliate associate, I earn a small commission when you purchase any of the products offered through the shared links at no extra cost to you. This helps me to maintain this website and I thank you for supporting me.
How is negative space helpful?
Negative space is a great help to learn to see relationships between one form and another. To be able to draw a 3D object on a 2D piece of paper, you have to represent your spatial perception and knowledge in a flat way. Seeing the negative space helps in that process.
What is negative space?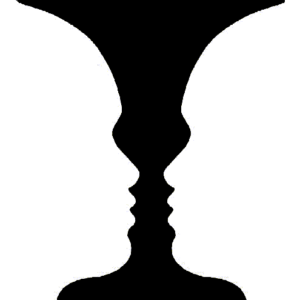 According to Wikipedia, negative space is the space around and between the subjects of an image. This implies emptiness.
I also consider negative space to be using the background colour to create a different image by painting around it. Which is an optic illusion as well as emptiness. This is used a lot in graphic design. This is called figure-ground reversal.
The best and most known example is this image of a vase, in which you can also see two faces. Focus either on the white or on the black of the drawing.
The use of negative space in design
SPD Breda
In my graphic design practice, I used negative space in my designs a lot. For example, in 1990, I made this logotype for the organization Sociaal Pedagogische Dienst.
I usually started with an existing letter font and edited that in the design process. In this particular case, there were some interesting design problems I had to solve. You can read more about that aspect in another article.
The space between the P and D presented an additional difficulty. Since the background below the P is attached to the D, the D should not be too far from the P.

FedEx
Once we are keen on observing the negative space as well as the objects themselves, we can discover a whole new world. Despite the fact that I call myself a skilled viewer, I had never seen an arrow in the Ex of FedEx!
It wasn't until I was looking specifically for negative space examples in design, that my eye fell on that phenomenon.
Carrefour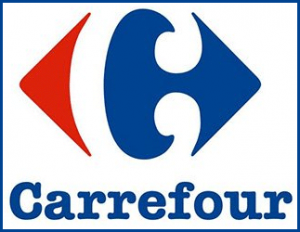 Have a look at the logo of the French supermarket Carrefour. Besides the obvious arrows pointing to left and right, there is another thing I thought is interesting.
On the internet, I saw several ways the word and the image are combined. In the first example where the word is below the image, and the whole thing is pushed into a too-small rectangle, I have a hard time seeing the negative C. Even if the letter is not actually present it can't be cut off like that. In my opinion, that's a designer's mistake. 🙂
In the second example where the word is put next to the image, but also with much more space around it, the white C is far more obvious, don't you think?
(I added this part about Carrefour after the remark of Rein the comments).

A useful help when drawing a still-life
In graphic design, the figure-ground reversion is mostly used. While drawing, the emptiness around objects is more obvious to use.
Although beautiful and very early examples of the first use of figure-ground perception in art are the hands drawn on cave walls.
Vases and bottles
In this example, I've shaded the negative space between the bottles. It's probably clear what is meant even without the shading, right?
Hence the insert with a shading of the space on the third bottle. This is also a negative space but is often neglected because it is less obvious. You can enlarge the image by clicking it if it's not clear enough.
Human body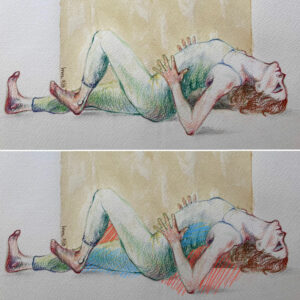 Not only during my studies at the Academy of Arts but also as a designer I often drew the human body. Both from photographs as live models.
I regarded that as exercises, like a musician playing scales. Very useful for keeping a close eye on things and paying attention to proportions.
In the example, I have shaded the clear negative space with red. As with the bottle still life, there is more negative space that can be helpful, which I shaded in blue.
Have you ever used negative space in your work? Tell me in the comment box below.
This article is an update. Originally published on 12-06-2010.