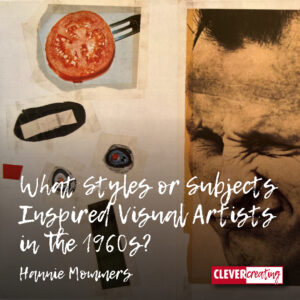 In the last quarter of 1969, aged 16, I went to Art school to become a teacher in visual arts and crafts. ​​At that time I did not read any national or international newspapers, my parents were subscribed to the local newspaper.
The turbulent 1968 and the artistic expressions of that time had passed me by completely unnoticed. The academy became a pressure cooker of historical insight and political awareness.
I was lucky that my art history and art appreciation teachers were very enthusiastic and were really good at transferring their enthusiasm to their students. Not just on visual artists in the 1960s of course, but on art history in general.
Some of the links are affiliate links. As an affiliate associate, I earn a small commission when you purchase any of the products offered through the shared links at no extra cost to you. This helps me to maintain this website and I thank you for supporting me.
Visual artists in the 1960s
Visual artists of the 1960s, like Andy Warhol, Robert Rauschenberg, and Roy Lichtenstein, were inspired by common daily life and by politics. The consumption society, big brands in the shops, the Vietnam War, the rise of the black movement (Black Panthers), or the death of Marilyn Monroe were important reasons to make art. Resulting in Pop(ular) Art, Op(tical) Art, Conceptual Art, and Happenings.
Art movements in the sixties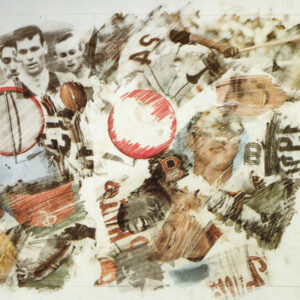 Right after the Second World War art developed into Abstract Expressionism. Representatives of this movement were Jackson Pollock, Willem de Kooning, Mark Rothko, and others.
As a response to the somewhat wild and colourful character of this movement, derived Pop Art, Op Art, Conceptual Art, Happenings, and Minimal Art. Famous artists from this period are for instance Andy Warhol, Roy Lichtenstein, Robert Rauschenberg, Lucio Fontana, Robert Jasper Grootveld, and Yoko Ono.
The idea and the process of making art were more important to those artists than the finished work.
Related: 17 Excellent Tips to Enjoy Art for Free
Knowing the background increases interest and appreciation
My family had a working-class background. Nothing wrong with that, but they weren't much into art. To say the least. So a whole world was opened up to me once I got art history lessons at high school.
So much so, that I decided to go to art school, where I did a major in ceramics and a minor in art history. Pop Art was a Movement that I liked instantly. I especially adored the Coca Cola bottles and the Campbell's soup cans of Andy Warhol. But at that time I saw it solely as art.
My favourite Pop Art object in later life was a Campbell's tomato soup can that I used as a pen tray. I have had it for over 30 years, making the colours fade, but I still have a picture to prove how red it used to be.
We never had Campbell's in the stores and I didn't know it actually was a brand of soup. When I was a student I was interested in the screenprints of Warhol from an art point of view, and as a graphic designer, my interest shifted to the appearance of the logotypes and industrial design.
Can you imagine my astonishment when I visited the States in 1991 and saw the same soup cans on the shelves in the supermarket just like that?
Duh, why didn't I make the connection that Pop Art actually was about popular culture and mass production? I heard the words, I knew the explanation, but still…
Pop Art became a mass product as well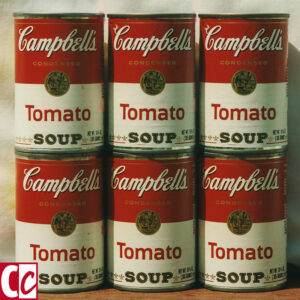 Warhol made screenprints. Thus his work could be reproduced in an edition, which made it possible to distribute it widely and (more or less) cheap. Consumerism at its best.
Pop Art originated from a particular zeitgeist and stood for freedom, the sexual revolution, the black movement, and women's empowerment.
The movement was a powerful answer to the Abstract Expressionism of the years before. The artists had little appreciation for the serious nature and the museum mindedness of the Abstract Expressionists and wanted art to be for the ordinary people.
They painted strong, outlined shapes and uniform areas of colour. As in the comic books, some drawings of which were enlarged by Rauschenberg into huge canvases.
Mass consumption, portraits, and politics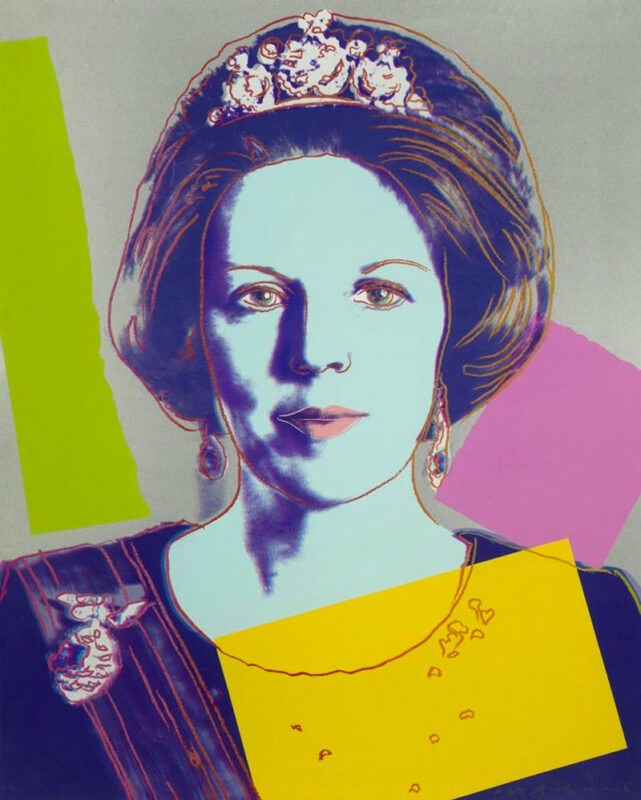 It's not just the soup cans I love. I like the portraits made by Warhol as well. This example is of the Dutch queen (did you know she never changed her hairstyle during her reign?).
Warhol's silkscreens are flat pieces of colour with little spaciousness. Emphasised in this print by the rectangle in the foreground and the flat forms in the background.
A silkscreen is made with as many prepared screens, as there are printed colours. Once the screens are prepared the printer can choose whatever colour he or she wants to use. That's the reason there are several versions of each portrait in different colour combinations.
When Marilyn Monroe died, Warhol made several series of a photograph of her.
Related: 12 Tips to Find Inspiration to Make Art when we Are Stuck
Political events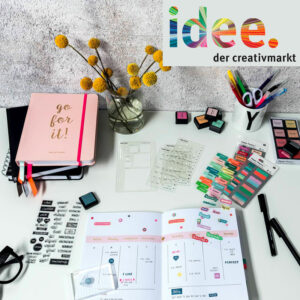 The artists also reacted to the political events of their time. Warhol made a series of an electrical chair. Rauschenberg made screen prints of newspaper messages.
The Vietnam War made Yoko Ono and John Lennon lie in bed for a week in an Amsterdam hotel room. Art critics and the press usually had a hard time with happenings. The Daily Mirror wrote: "A not inconsiderable talent seems to have gone completely off his rocker".
In the Netherlands, Robert Jasper Grootveld attracted attention with his anti-smoking happenings. As well as his actions to chalk a large letter K on cigarette advertisements. K is the first letter of cancer in Dutch.
Op Art, Minimal Art, and Conceptual Art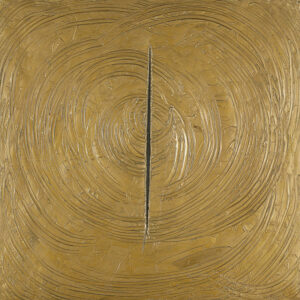 Much more remote were Op-Art and Minimal Art although their art expressions were more appreciated by the public.
Op Art is an examination of optical illusions. Victor Vasarely is an important frontman of this movement.
By using the simplest means possible, Minimal Art attempts to establish a relationship with the environment. This can be experienced in the works of Yves Klein, Sol LeWitt, and Richard Serra.
Conceptual Art is more difficult to interpret. Lucio Fontana made a series of canvases that were cut or pierced. The act of concentrating and then suddenly hitting the canvas was more important than the result.
Do you have a favourite object of the sixties? Tell me in the comment box below.