Favorite brands from the sixties
My favorite Pop Art object is a Campbell's tomato soup can that I use as a pen tray. I have had it for over 20 years, making the colors fade, but I have the picture to prove how red it used to be.
We never had Campbell's in the stores over here and I didn't know it actually was a brand of soup. When I was a student I was interested in the screen prints of Warhol from an Art point of view, but nowadays I am a graphic designer, which made my interest shift to the appearance of the logotypes and the industrial design.
My faded, favorite pen tray
Walking in a supermarket feeling like a provincial girl
Campbell's Soup I: Tomato, c.1968 – by Andy Warhol
My family is working class. Nothing wrong with that, but they weren't much into art. To say the least. So a whole world was opened up to me once I got art's history lessons at high school.
So much so that I decided to go to art school, where I did a major in ceramics and a minor in art's history.
Pop Art was a Movement that I liked instantly. I especially adored the Coca Cola bottles and the Campbell's soup cans by Andy Warhol. But at that time I saw it solely as art.
Can you imagine my astonishment when I visited the States in 1991 and saw that same soup cans on the shelves in the supermarket just like that?
Duh, why didn't I make the connection that Pop Art actually was about popular culture and mass production? I heard the words, I knew the explanation, but still…
Mass production – Prints
One Hundred Cans, 1962 – By Andy Warhol
Warhol made screen prints. Thus his work could be reproduced in an edition, which made it possible to distribute it widely and (more or less) cheap. Consumerism at its best.
Pop Art originated from a particular zeitgeist and stood for freedom, sexual revolution and women's empowerment. (By the way, these were not elements that my mother felt appropriate for me).
The movement was a powerful answer to the Abstract Expressionism of the years before. The artists had little appreciation for the serious nature and the museum mindedness of the Abstract Expressionists and wanted art to be for the ordinary people.
---
Our (ex-)queen Beatrix when she was young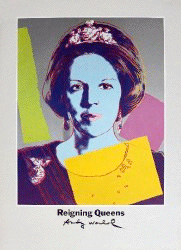 Queen Beatrix of the Netherlands, from Reigning Queens by Andy Warhol
It's not just the soup cans I love. I like the portraits made by Warhol as well. This example is of the Dutch queen (did you know she didn't change her hair style during her reign?).
Warhol's silk-screens are flat pieces of color with little spaciousness. In this print emphasized by the rectangle in the foreground and the shapes in the background.
A silk-screen is made with as much prepared screens, as there are colors. Once the screens are prepared the printer can choose whatever color he or she wants. That's the reason there are several versions of each portrait in different color combinations.
What is your favorite object of the sixties?