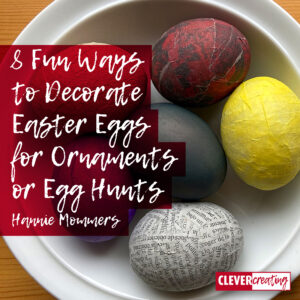 The grandchildren are coming for Eastern and I am planning for an Easter egg hunt with them as well as a decoration with eggs. It's fun to think of different ways to decorate Easter eggs.
A couple of years ago I made the decoration together with them. I had cut eggs from sturdy cardboard and they decorated them on both sides with felt-tip pens. Then we put a hole in it and hung them on 2 cross-linked branches to form a mobile.
They don't like crafting themselves anymore, unfortunately, so I made the decorations myself and I used real eggs this time.
Some of the links are affiliate links. As an affiliate associate, I earn a small commission when you purchase any of the products offered through the shared links at no extra cost to you. This helps me to maintain this website and I thank you for supporting me.
Several ways to decorate Easter eggs
Hard-boiled eggs are best for Easter egg hunts, whereas empty eggs are better for decoration. The eggs can be coloured, patterned, or covered with paper as a 3D collage.
Hard-boiled eggs for the Easter egg hunt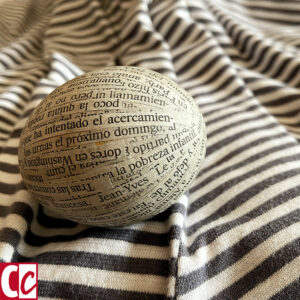 When our eldest grandson was 4, we visited a friend who had made decorated eggs. She handed Diego a pair and the first thing he did was hit them together to make music. They'd had music lessons in kindergarten that week with rattling eggs and maracas.
He was very disappointed that no sound came out and the eggs broke immediately of course. Luckily they were hard-boiled.
The eggs are probably eaten after the egg hunt. Ensure health safety and do not use artificial or even toxic paints for colouring. Another advantage is that you can throw the eggshells in the compost bin without worrying about the environment.
Related: 2019 061 Early Easter
Food dye for safety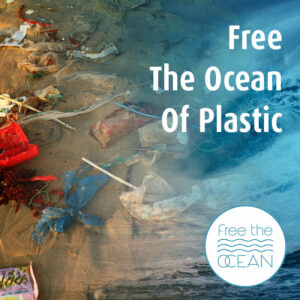 If you want to make it easy on yourself, you can use food dye. It is available in a variety of colours. Read the instruction manual as it may be different for different brands.
Usually, you have to hard-boil the eggs first, let them cool quickly so that the shell comes off easily later, and then put them in boiling water with vinegar and food colour for some time.
Natural colouring
It's even more fun to use natural dyes. Then you really know it's safe and it's great to find out what you can do with plants.
There are more possibilities than in this list but to give you an idea:
Purplish red – beetroot;
Orange – carrots;
Yellow – curcuma, the flowers of chamomile, saffron;
Green – parsley, spinach;
Blue – blueberries;
Brown – onion peel, coffee, tea.
Bring half a litre of water to the boil, add 2 cups of vegetables or 2 tablespoons of spices, simmer for 15 to 30 minutes, strain, and add 1 tablespoon of vinegar to the coloured liquid.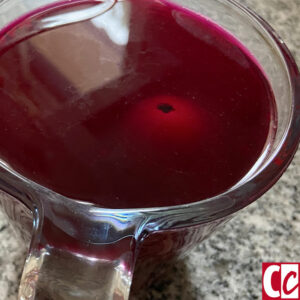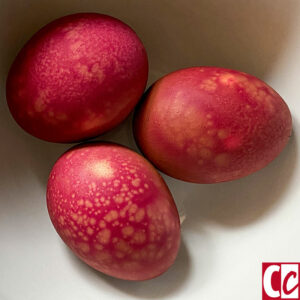 3 Methods to apply the paint
Hard-boil the eggs in the liquid;
Or you can boil the eggs first, cool them down quickly, and leave them in a bowl filled with the liquid for a day;
The third method is to continue cooking the liquid until it thickens, add a few drops of gum arabic, and paint them with a paintbrush.
You can intensify the colour by rubbing the eggs with olive oil or sunflower oil.
Related: Dyeing with Plants, a Natural Way of Colouring
Making patterns with rubber bands or stickers
Line patterns can be created by wrapping rubber bands around the eggs before entering them in the dye bath. You can make dots with round stickers or with a paintbrush.
More intricate embellishments can be made with felt-tip pen drawings. Or you glue pieces of textile on the eggs as a (semi)-spatial addition.

Cut a toilet roll in half and place the painted eggs on them to dry.
Empty eggs for ornamentation
How to blow out eggs
It is not that hard to blow out eggs, but it is difficult to make the holes neither too small nor too large. Although practice improves the efforts. If you've blown out a lot of eggs, it'll get better.
Requirements:
Eggs (duh!);
Bowls;
Adhesive tape;
Pushpin;
Unfolded paperclip or knitting needles.
The contents of the eggs are later used for a cake or an omelette, so I always use 2 bowls. One to blow the egg into, the other to collect it. If an egg is not good, then only one has to be thrown away.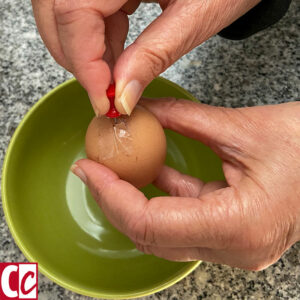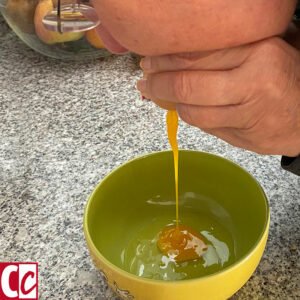 Method:
Stick a piece of masking tape on both sides of the egg;
Carefully poke holes on either side with the pushpin;
Make the holes slightly larger, making one hole bigger than the other;
Pierce the yolk with the paperclip or knitting needle;
Blow the contents into the bowl.
I use 2 knitting needles of different thicknesses. On one side, I make the hole bigger with the thinnest knitting needle, which is the blowhole. On the other side, I enlarge the hole with the thicker knitting needle.
The empty eggs are filled with water to rinse and clean the inside. This avoids bad smells.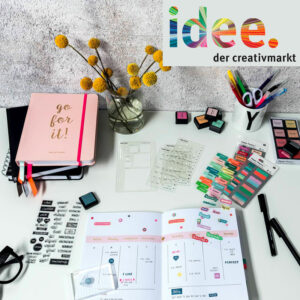 Ink or paint
The eggs can be coloured in the same way as described above for the hard-boiled eggs.
Since you don't have to worry about food safety now, the eggs can also be painted with regular ink, gouache, or acrylic paint.
Collages of toilet-paper
Some eggshells are too thin, making it almost impossible to prevent damage to the eggs. In that case, they can be repaired by covering them with strips of toilet paper or newspaper. Use wallpaper glue or make your own glue from potato starch.
If the eggs are brown and you want to paint them a light colour, it's also a good idea to coat them with white toilet paper first.
Coloured paper
Tissue paper moulds well around the eggs and comes in a variety of colours. Because tissue paper is translucent, you can create great patterns and shades by using a variety of colours.
Other coloured paper is only suitable if it is not too thick and more or less flimsy.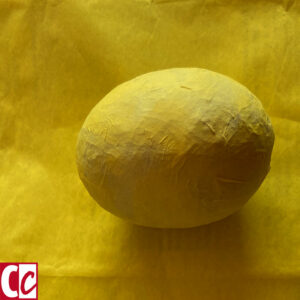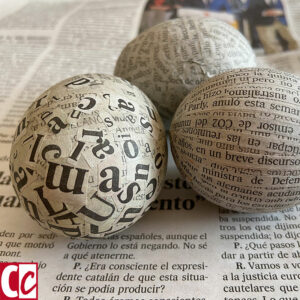 Newspaper patterns
Both texts and photos from newspapers can be used as decorative elements. There are all kinds of possibilities.
Tearing or cutting produces a different result. Lines of text can be pasted in a specific direction, horizontally or vertically.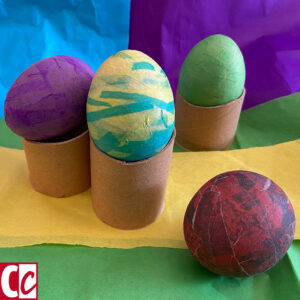 If there is a lot of choice in the sizes of the letters that the newspaper has used in its headlines, you can make tint differences by pasting from large to small letters. Or if there are few size differences, by positioning the letters from close together to further apart.
Newspaper and magazine pictures
Photos allow you to work on colour as well as textures, depending on the images and your own creative interpretation. Newspaper photos are easier to process than those from magazines because the paper is usually of better quality.
Magazines have the disadvantage that the paper is sometimes too good and therefore too stiff for the small surface of an egg. However, the advantage is that the colours are more brilliant and will not fade quickly.
Bring your creativity to life
Often when we are limited, as in this case by a small object with a difficult 'skin', it is an extra challenge to be creative.
Have fun making your Easter decorations and enjoy the end result.
Happy Easter.
What decoration method did you use for the eggs? Tell me in the comment box below.