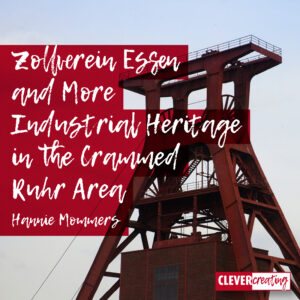 Despite the industrialization of the area my favourite place to go was the Ruhr area in Germany. When I still lived in the Netherlands, it was a car journey of 1,5 hours from our house.
The area became the "European Capital of Culture" in 2010. This meant a facelift for a region that had been a dirty, neglected orphan since the mines and steel industry slowly came to a halt.
There are a lot of interesting places nowadays, but my favourites are Insel Hombroich and Zollverein Essen.
Some of the links are affiliate links. As an affiliate associate, I earn a small commission when you purchase any of the products offered through the shared links at no extra cost to you. This helps me to maintain this website and I thank you for supporting me.
Industrial heritage in the Ruhr area
In addition to the undesirable position of being #1 on the list of most polluted areas in Europe, the Ruhr area in Germany has a lot of culture and nature to offer. Mainly industrial heritage from the 19th and 20th centuries, the highlight being Zollverein Essen.
An industrial monument in Essen
My father was a passionate metal craftsman, which explains a lot of my own interest in industry and technique. Occasionally I was even allowed to accompany him to the factory where he worked and I could see the machines in their full splendour.
I didn't take up a technical profession and became an artist instead. But still, I get very excited when I see machines, this time from a visual perspective because they are great to take pictures of.
The Zollverein Coal Mine Industrial Complex is on UNESCO's list of World Heritage Sites and apart from being a beautiful industrial monument, it is also a cultural hotspot.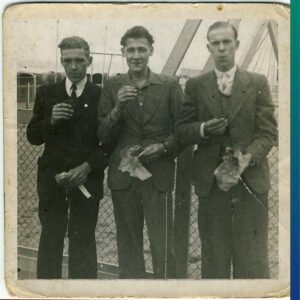 As a 20-year old my father was forced to work in Germany during the war. It was called the "Arbeitseinsatz". He never wanted to tell me stories about those days. After he passed away I found this photograph, taken in 1942 or 1943, with text on the back, indicating that he was in a camp only 4 miles from Zollverein Essen.
To me, it's really strange to discover more about that time of his life now that he is dead than ever before. He didn't talk to me about his wartime, but a friend of mine did get an explanation about his technical character: "I couldn't sabotage those people. It hurt me so much to break something that was well made. I just loved seeing machinery function the way it should".
I tried to gather more information about that period on the Internet and now I can understand he didn't want to talk about it. The few stories I found were awful to read. But I also remember the one thing my father did tell me: "I didn't like that period, but I learned my craftsmanship then and there".
The atmosphere varies from season to season
Like Insel Hombroich, Tom and I have visited Zollverein several times, in all the different seasons. Interestingly, even being in an industrial area, one still gets a feel for the different times of the year. The light is diverse, the vegetation – little as it is – is varied and the whole atmosphere is distinct in the several seasons.
As you might know from some other articles I wrote, I like it most if I can combine cultural activities with hiking and nature activities. I can assure you: hiking is one thing you can do at Zollverein. The plant is big and it takes you at least 1,5 hours to walk all around the border.
Do you like factories? Or do you think they are visual pollution?
Related: Insel Hombroich, a Stunning Place of Art, Architecture and Nature
There are still many buildings that need to be restored
One reason for us to want to revisit Zollverein again is to see how the restoration process is going. We saw it develop step by step in the time when we regularly visited. It is what they call a cultural hotspot.
Ateliers, exhibition buildings, and even a dance studio, are housed in the various former factories. In wintertime, there is an ice rink. It seems there is a swimming pool now as well. Artists have set up small shops where people can buy posters or utensils in limited editions.
It's an ongoing project of restoring and refurbishing and it's done with great care. Parts of the buildings are restored in their old grandeur and tour guides will show you around and tell you about the history.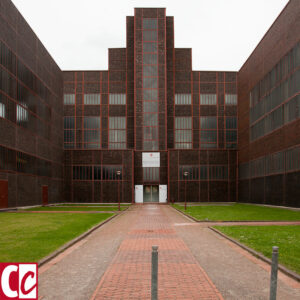 For me, the highlight is the Red Dot Design Museum, situated in one of the old factories.
The Red Dot Design Museum in one of the former factories
For the thirsty or hungry visitor, several cafes and a fancy restaurant can be found. On the premises is a little shop where you can rent bikes. This way you can cover a bigger area to explore. In the neighbourhood are old factories that have been turned into hotels and museums about the history of the region.
Related: Fantastic Outdoor Land Art on the Estate of Winery Chateau la Coste
Take a tour
For an overview of the area, you can drive the "Route: Industriekultur". Nearly 50 places found their spot on that route, giving a cross-section of industry and buildings in the region.
Most buildings are steel factories or buildings belonging to mines. Waterways run through the area, with associated locks and harbours, which make a very interesting change. Germany has a rich industrial heritage.
We even celebrated our 40th wedding anniversary by visiting the Ruhr area. The Bergbaumuseum in Bochum gives a tour as if you are really in a mine deep underground. Awesome!
As a side note
Thanks to the mines, the Ruhr is the most polluted part of Europe. I think that's really the bad side of the area.
Especially now that the war in Ukraine and the energy crisis (2022) are promoting coal firing. We definitely need to get rid of fossil fuels.
Still, in short: I can really recommend a visit, there is a lot to be seen over there.
Have you ever visited the Ruhr area? Tell me what you think of it in the comment box.