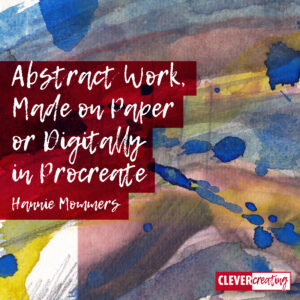 Abstract art focuses on shapes and colours and has no recognizable realistic representation.
Abstract work can be produced because the artist deconstructs reality. Or an artist can avoid thinking about reality and focus solely on form, colour, structure, contrast, or lines.
People regularly think that abstract artists are failed 'real' artists because they would not be able to work realistically.
A view I disagree with. There are good and mediocre realistic artists just as there are good and mediocre abstract artists.
All works are part of my personal challenge in 2019 to create daily.
Abstract work
Making abstract art is not the lack of professional knowledge to create realistic representations, but the desire to express feelings or spirituality.
* Made in Procreate.
Related: How to Create Abstract Photos by Using the Hipstamatic App
Procreate is a marvellous app
In the year I had no house and was travelling through Spain to find a place to live, I had all my paint and pencils in storage. That's when I decided to buy an iPad and an Apple pencil.
I was used to working digitally on a computer, but handling a pencil directly on a screen is way different from drawing lines with a mouse. Yet, it was a great expansion of my creative possibilities.
There are several apps to draw with on a tablet. After trying a few, my preferred app is Procreate.
Procreate has a steep learning curve. I took a course with Udemy to learn how to work with it faster and to get to know all the possibilities.