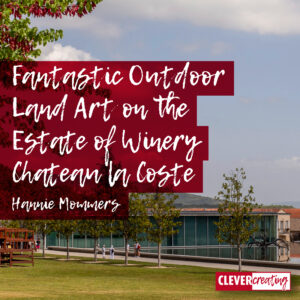 A landscape is often beautiful in itself. Nevertheless, a conscious addition by an artist can be of great added value. It contributes to a different experience of the environment.
My travels have already taken me to several places with landscape art on display or as part of the collection, such as Insel Hombroich in Germany, Museum Kröller-Müller in the Netherlands, and the Beaufort event in Belgium.
In this article, I will tell you about another great location that is well worth visiting: the organic winery Chateau la Coste.
Some of the links are affiliate links. As an affiliate associate, I earn a small commission when you purchase any of the products offered through the shared links at no extra cost to you. This helps me to maintain this website and I thank you for supporting me.
What is outdoor land art?
Outdoor land art is different from landscape painting. In land art or landscape art, nature itself is extensively used for inspiration and as a material to work with.
Chateau la Coste in the Provence, France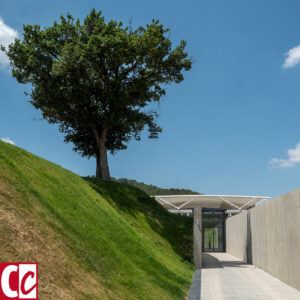 If you are in the Provence in France you should definitely visit Chateau la Coste. Even if you are not an art lover, it's beautiful and well organized, and there is plenty to see and do.
The domain consists of vineyards, several restaurants, including a gourmet Argentine one, and a spa hotel, surrounded by a wooded area with 40+ works of art.
Upon entering you will be greeted by friendly young people, who will explain the route you can walk and the activities you can do yourself, such as ringing the meditation clock or hanging a wish in a tree.
Useful data:
Organic wine estate with 8 different grape varieties;
Near Aix-en-Provence and Arles;
A circular walk of about 4 km (sturdy shoes recommended);
Open every day from 10 am to 7 pm or 10 am to 5 pm (depending on the season);
Entrance fees are €12 or €15 (2022);
Guided tour with a golf cart available, so visitors with limited mobility can also go.
Characteristics of land art
In the 1960s, some artists turned away from traditional sculpture and started working with nature. Usually in the outdoor setting, although some works have ended up in museums as well.
A landscape artist takes for granted that nature is changeable and can even destroy a work of art through erosion or the proliferation of plants.
Possible working methods
Using the available material, such as stones, trees, branches, sand, etc;
Adding unnatural elements;
Intervening in nature, for example by digging holes or planting trees in a certain way.
Combinations are possible as well. These methods are all used at Chateau la Coste.
Artists are invited to create the environment
The Irish art collector Paddy McKillen has changed the wine domain into a centre for modern art that opened its doors in 2011.
Artists and architects are invited to get inspired by the location and make something on the spot. Among them are famous names like Ai Wei Wei, Frank Gehry, Yoko Ono, Richard Serra and Oscar Niemeyer.
Even Bob Dylan had an exhibition in one of the pavilions. In my humble opinion, he can better stick to poetry and music but I guess famous names are crowd-pullers.
1. Using the available material
Ai Wei Wei – Ruyi Path, 2017
A Ruyi is a Chinese decoration and symbol that brings good luck and blessings to its owner.
The path meanders through the trees in a meditative way. We were not in a hurry and let the environment act on us. A peaceful experience.
Contrary to my expectation that the cobblestones came from the estate, they were salvaged from the renovated ports of Marseille.
Anyway, a nice new life for the stones.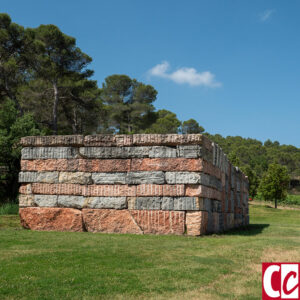 Sean Scully – Wall of Light Cubed, 2007
This is not a stand-alone work by Scully that he specially made here.
Both his sculpture and paintings have the same block structure.
The work in La Coste consists of grey, blue and red limestone from a Portuguese quarry and weighs more than 1000 tons.
We were there in the late morning. I can imagine how the light on the stones and the colours change with the movement of the sun.
2. Adding unnatural elements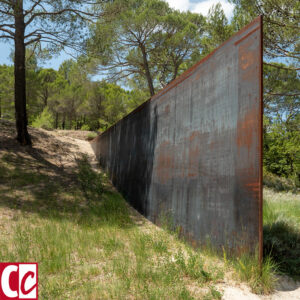 Richard Serra – Aix, 2008
The metal plate in the picture is one of 3 pieces, which are placed into a hill. The plates are partially buried in the ground.
The material is a mix of steel, iron, copper and zinc, and each plate weighs approximately 15 tons.
Serra has more of these installations, including in Kröller-Müller, and tries to initiate a dialogue between nature and modern man.
Related: Is the Remote Situated Kröller-Müller Museum Worth Visiting?
3. Intervening in nature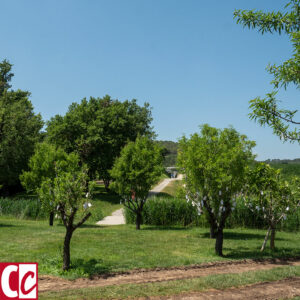 Yoko Ono – Wish Trees, 2019
The almond tree is a common fruit tree in the Mediterranean area, which is the reason for Ono's choice.
She has placed 8 almond trees in a circle, which is considered a perfect shape and is very different from the dull rows in which these trees are usually planted.
At the cashier, we were both given a label to write down our wish for a better future and to hang it on a tree. We both wished for a better world for our grandchildren. 🙂
Several pavilions for the arts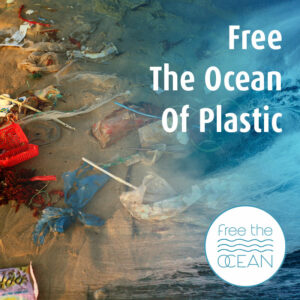 Pavilions are clearly not land art, yet they were so beautiful I thought it is worthwhile mentioning a couple.
Richard Rogers – Galerie d'Exposition, 2021
If you are familiar with the Centre Pompidou in Paris, you will recognize that this pavilion is designed by the same architect.
It is a hanging container-like construction, with a balcony at the end and a beautiful view of the estate below. I could also admire that view from behind the windows. My fear of heights is never fond of balconies over abysses. 🙂
The floor is apparently made of a fragile material, so we had to either remove our shoes or put on cloth slippers. Not very practical, but it does keep the room beautifully clean.
Frank Gehry – Pavillon de Musique, 2008
After admiring the LUMA in Arles a few days earlier, we were very surprised to see a completely different work by Frank Gehry in La Coste.
The glass in the music pavilion serves to keep visitors and performers dry and hopefully also to improve the acoustics. Unfortunately, there was no music performance when we were there.
Although the fixing bars serve to hold the glass panels in place, they look like they are just decorative. It gives the whole structure a playful, airy atmosphere.
Related: Museum LUMA in Arles, a Lively Creative Breeding Ground
Intentional and unintentional land art
I have always loved what I consider the unintentional land art quality of vineyards. The structure of the rows, especially when they curve up and down a hillside, is beautiful.
If you want to see a lot of land art you should definitely visit the Provence and go to the Chateau la Coste. Have a look at the video I made for an even better impression of the environment and the works.
What do you think of Land Art? Tell me in the comment box below.