Most tourists visit Amsterdam or the Randstad region when they go to the Netherlands. There is nothing wrong with that because both the city and the area have a lot to show.
Personally, I don't like crowds much myself, so when I still lived in the Netherlands I usually went to other parts of the country.
I have always found the Hoge Veluwe National Park and the Kröller-Müller Museum worth visiting. In every season, although we were longer inside the museum in the winter and spent more time outdoors in the summer.
Some of the links are affiliate links. As an affiliate associate, I earn a small commission when you purchase any of the products offered through the shared links at no extra cost to you. This helps me to maintain this website and I thank you for supporting me.
Is the Kröller-Müller Museum worth visiting?
The museum is well off the tourist trail but certainly worth a visit. Not only because of the art in the museum and the extensive sculpture garden but also due to the beautiful nature park in which it is located.
Located in a national park, surrounded by trees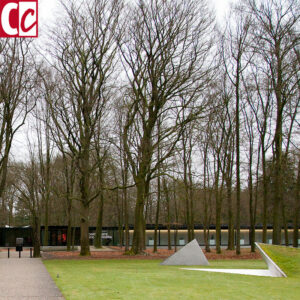 The museum is situated in the National Park "De Hoge Veluwe", 55 square kilometres of heath, sand dunes and woods. It's a great area, especially since you can visit the rest of the park, after seeing everything inside the museum, with the white bikes that are free to use.
Having the second-largest collection of van Gogh works in the world is thanks to art collector Helene Kröller-Müller. In addition, many other famous artists can be admired.
The museum building was designed by Henry van de Velde with an extension by Wim Quist. In the sculpture garden are pavilions designed by Gerrit Rietveld en Aldo van Eyck.
Related: National Park Hoge Veluwe, the Netherlands, definitely worth a Visit
One woman's dream created pleasure for thousands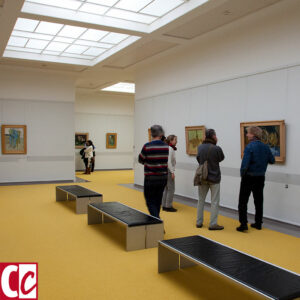 When I was a teacher at a high school I used to come here often with my students. Those field trips had all the good in them: paintings and applied art inside, architecture and a sculpture garden outside.
The collection is a result of the dreams of Helene Kröller-Müller. She had very specific thoughts about modern art.
Helene Kröller-Müller collected almost 11,500 pieces of art when she could afford it. A lot of what she picked is exactly what I like. Probably the reason I love going to this museum.
In the crisis of the late twenties and thirties she, unfortunately, couldn't maintain the collection any longer and to prevent it from falling apart she donated her entire collection to the Dutch state in 1935.
The focus of the museum is on 19th and 20th-century art. Apart from the paintings and drawings of Van Gogh, she had statues of Giacometti and Marini. Paintings of Mondrian, Seurat, Toorop. To name a few.
After Helene died the museum kept on collecting pieces of art.
Related: 17 Excellent Tips to Enjoy Art for Free
Children running through the museum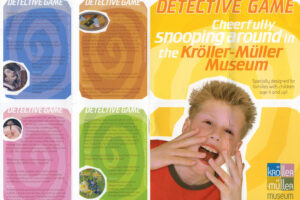 When we visited years ago, children were crawling around our legs at times, trying to outrun each other in search of something. I had no idea what they were after until I discovered a brochure about a treasure hunt.
It's awesome if a museum offers activities specifically for children. And better yet, if it is really fun to do. Of course, as a former teacher, I am inclined to say it should be educational. But I do know, that if it's fun they learn more than when it's boring.
Some visitors looked very harshly at the children running around. I guess they wanted the museum to be quiet like a library should be. Yet, I hope I can visit this museum one day with my Spanish grandchildren. It must be so nice to show them everything.
Three artists worth appreciating
It took me some time to learn to value the Dutch Vincent van Gogh as a painter. Until I realized I was merely being stubborn – everybody likes him, so I won't. Very immature! So I tried to be open and studied his life and opinions about painting.
He wanted so much to be a good painter, to paint the inner souls of his subjects, that it literally drove him mad. Only a few people with vision appreciated him back then. Which is a pity, don't you think?
Piet Mondrian, another Dutch painter, had my immediate love. He had the same drive as Van Gogh, but lived in a later timeframe, so his studied subject was different and his life was different. Where Van Gogh died a poor, ignored and troubled man, Mondrian experienced admiration for his work while he was still alive.
The Italian Marino Marini was an Expressionist. In hindsight, it's very easy to see the development of the arts from early 19th-century realism to 20th-century expressionism and abstract art, but those three artists all had to overcome a lot of objections in their own time.
The Kroller-Muller houses a lot of works of these three artists
We visited the area and the museum on a regular basis. But the last time it was winter. It was nice to be out of the cold for a couple of hours. Of course, our most important goal was looking at the art, but because of the cold, our first steps led right to the coffee counter.
After the apple pie and coffee, we wandered through the rooms. The museum has, besides the permanent collection, several halls for temporary exhibitions, so there is a lot to see. For me, the highlights are the paintings of van Gogh and Mondrian and the statues and drawings of Marini.

Logic will get you from A to B. Imagination will take you everywhere. ~ Albert Einstein
Vincent van Gogh (1853-1890), a Dutch painter who lived in France
You don't necessarily have to go to the very nice, but also very crowded, Vincent van Gogh Museum in Amsterdam. One of the largest collections of Van Gogh paintings is in the Kröller-Müller Museum. Including one of my favourites: the sunflowers.
What I like about this painting is its liveliness. The blue in the foreground enhances the yellow of the sunflowers. The leaves and the heart of the flowers are merely little stripes, but they're all in the right place and right direction. You can see the same ruggedness in the sunflowers as Vincent painted in for instance the Potato Eaters.
Both paintings – The Sunflowers and The Potato Eaters – were stolen from the museum in 1988. As you can imagine, I am glad they were recovered undamaged half a year later.
By the way, did you know there are several versions of the famous Potato Eaters? In the Kröller-Müller Museum hangs the version with the forks. There is also a version in which the farmers eat with their hands.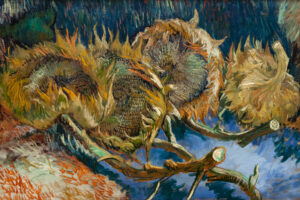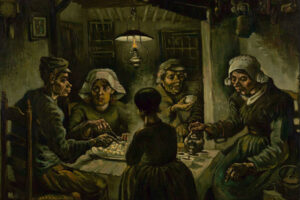 Piet Mondrian (1872-1944), a Dutch painter who lived in the States
You'll probably be more familiar with the paintings of Mondrian that have black lines and red, blue and yellow squares on a white surface. He was a member of the art movement De Stijl at that time.
Very rarely an artist develops his skill in a linear way. Mondrian did and we can follow his development and understand it. If you have a look at the YouTube video you'll get a good notion of that process.
It is said that he even put his glasses parallel to the edge of the table. And he ended up in a fight with his friend Theo van Doesburg, a fellow De Stijl member, who had the nerve to make his compositions diagonal, instead of horizontal and vertical.
The landscape is one of his early paintings. Isn't it beautiful? He lived near the beach in the early years of his artistic career and painted a lot of landscapes. Then went from landscapes to a single tree, and developed his square De Stijl paintings from there.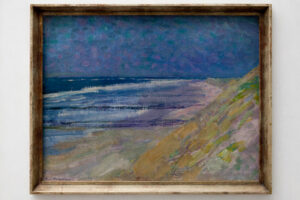 Marino Marini (1901–1980) – Equestrian and circus figures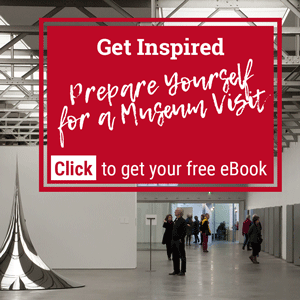 I admire Marini particularly because of this wooden equestrian statue. The emotion, texture and patina, the frozen movement – everything is excellent. It has the same power as Picasso's Guernica, although it was made 20 years after the Guernica. I couldn't photograph the statue without a lot of background, so take a closer look here.
Marini made sketches prior to his sculptures. Several are on the walls of the museum. He sketched and painted like a sculptor, with lots of lines. Almost as if he erased material from the figures, even though they are on paper. 
Do you like visiting museums? What's your favourite? Tell me in the comment box below.
This article is an update. Originally published on 20-03-2013.