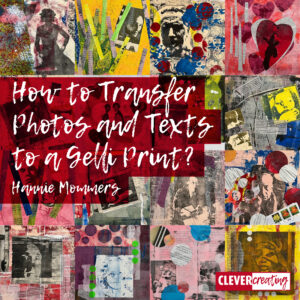 In my personal challenge, an assignment to make a collage daily for 365 days, I am focusing on one aspect a month. More or less. It's not written in stone, of course.
The month before, I primarily worked on art journaling, using illustrations and text. February 2023 was dedicated to transferring pictures to the Gelli prints.
I used several methods. The main difference was either Gelli printing or using the copy machine on tissue paper.
As my main objective was to make collages, this was always supplemented with paint, ink or paper and glue.
Transfer photos and texts to a Gelli print
When you start to transfer photographs and texts, it is a matter of trial and error. Newspaper and some magazine papers will not transfer well.
The paper must be in-between matte and glossy. It will have to be coated, which is a treatment that the paper undergoes in the factory.
You also have to make sure that the photo is very contrast-rich. Grey tones will not be transferred properly.
Apply a not-too-thick layer of dark paint to the Gelli plate;
Put the photo on it and press that light;
Remove the photo and let the paint dry a little;
Roll a light colour of paint over the plate and cover it with paper;
Press the paper and put a weight on it, for example, a thick book;
Leave it for about 5 minutes, then pull the paper off the plate.
Related: A Creative Approach to Add Text to an Art Journal, 7 Tips
Pictures and texts on tissue paper
Tissue paper is semi-transparent, making it a great part of a collage. I have glued tissue paper to a normal A4 at the top, so it would go through the copy machine well.
Have a look at my Instagram account for more examples.
Related: Creating Unique Text in an Art Journal and my Pages of January 2023