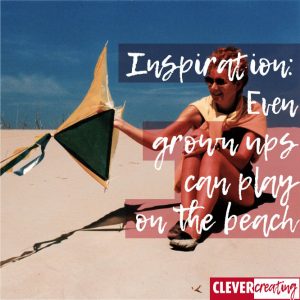 Isn't it a pity that we tend to forget how to play? Years ago my former colleagues and I went to a beach house once a year. We were all creative souls and we gave ourselves assignments to develop our creative skills even further. There I discovered again what fun it is to play on the beach.
The focus of the assignments was different each year. It could be flying objects or playing with the sand. Or we went beach combing and made 3D collages out of the junk we found. And sometimes we would just draw, because we all loved to do that as well.
Every child is an artist. The problem is how to remain an artist once we grow up. ~Pablo Picasso
What can you do on the beach?
I'll give you some inspiration with a list and I hope you will add your tips in the comment box below. Because I am sure I forgot things. 🙂
build sandcastles
write in the sand with a sheel or a stick
go beach combing
take pictures of textures
draw what you see
go geo caching
record the sounds of the surf or the birds
invent water games
make sand sculptures
collect seashells
photograph the objects you see
make a message in a bottle
And yes, you can also sport, relax, read, swim and play beach volleyball. My objective here was to list activities which I think develop creativity. 🙂
Take lots and lots of pictures!
You might know I love taking pictures. Either with my DSLR camera or with my iPhone. I enjoy not just the moment itself, but also the sorting and criticizing afterward.
If you can't draw after nature when you are actually there, because you master not yet the technique or because the weather conditions were not good, then a photograph is a handy tool.
Both taking pictures and drawing develop your sense of composition, color, and creativity in general.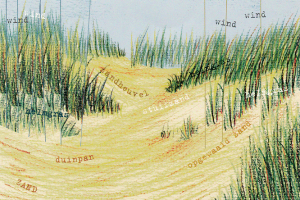 Our play on the beach in images

It goes without saying that you don't have to play on the beach alone! It is a great activity to do together with you (grand)children, as I know from experience.

An advantage of the year we went beachcombing was we cleaned the beach. We threw all the stuff we hadn't used in the bins.

A fantasy animal one of my colleagues made.

Have you heard of the Memphis group? They inspired us enormously in our work as graphic designers and during the beach combing trip.

This was so funny: I took this collage home, but what I had not noticed in the open air on the beach, became very soon apparent in the house. It smelled like dead fish!

My color box fell accidentally out of my hands, giving me unexpected inspiration to look for lines and composition.