At most of the exhibitions where I showed my work, I tried to be present to talk to the visitors. The most frequently asked question always was: where do you find the inspiration for your subjects? To which my answer was that I had some tricks for that.
Developing inspiration is a conscious process. Or at least it could be. It also depends on our individual character what our favourite method is.
In this article, I give you 30 tips to spend free time in a creative way that gives you inspiration. It is a random list of all kinds of things I occasionally do. Get inspired.
Some of the links are affiliate links. As an affiliate associate, I earn a small commission when you purchase any of the products offered through the shared links at no extra cost to you. This helps me to maintain this website and I thank you for supporting me.
Tips to spend free time creatively
Getting inspiration is not just a divine spark that suddenly comes to us but can be mindfully guided by what we do. Even activities that at first glance seem to have nothing to do with creativity can give rise to new ideas.
Finding inspiration
Are there any childhood activities you stopped doing?
Colouring with crayons, for example. Or use a soft pencil to colour the edge of a piece of paper (torn or cut) and then smear it with your finger on another piece of paper. Or scratching on paper with a soft pencil while there is a penny underneath.
Check out pictures on Instagram
Get inspired by the many photos you can find on Instagram. You can search for keywords by the hashtags that most people use. Follow me while you're there. 🙂
Look at shop windows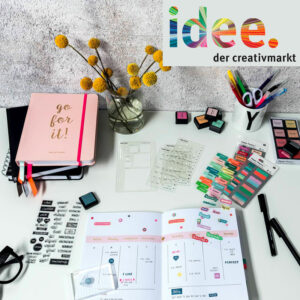 What does the current fashion look like? What resources have been used to decorate the shop and make it attractive? What materials are hip?
Visit archives
If you are looking for inspiration for a product, you can look for archives in design museums. When you are interested in old texts or letters then archives of newspapers or city archives are a treasure.
I spent quite some time in a regional archive to discover my family tree. Those old manuscripts were beautiful to discover.
Visit the theatre
What do the decor and costumes look like? What has been used dramatically to make an often performed play or opera attractive or modern?
Leaf through magazines
If they are old magazines, you can tear out photos and try to combine them with new images. Make collages with the pictures or with texts.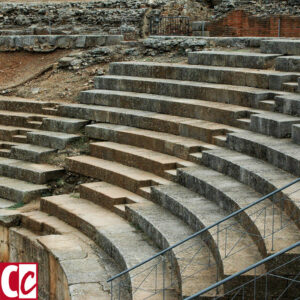 Do something you do not dare to do
Ask for an interview with an artist you admire. Take that course you always thought you would not be good at.
Dream or daydream
They say you can't trust dreams. But especially weird dreams can be such a great inspiration for new ideas.
Take pictures using a theme
Just take photos of trees for a month. Or photograph only round shapes. Also, try to find scenes in just one colour (monochrome).
Related: How to Stay Inspired in Photography? Of these 7 Tips, I Particularly Like #6
Check out the colours of the fashion season
Look at the trends. What's hot. What's not.
Go to the movie
One of my best recommendations is Bon Dieu. I laughed until my face was hurting. Hilarious. Although this was just for relaxation. Another must-see is Kinky boots. I have seen this film several times and each time from a different point of view. Marvellous.
Imitate
Imitating has a negative meaning in our society, but in the time of the guilds, an apprentice had to imitate the master to learn the craft. You learn a lot by trying to copy something exactly.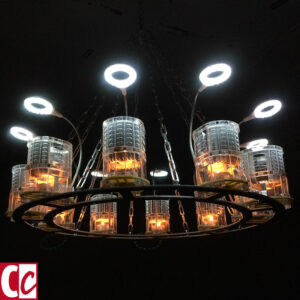 Look into a dictionary
Open it on a random page. Or search for a specific word and see what terms are mentioned in the explanation and then look up those as well.
Look at advertisements
Promotional photos and commercials have to pinpoint an idea in an extremely short period of time. How do they get their message across?
Browse through Pinterest
Like Instagram, Pinterest is very picture-oriented. It's easy to make inspiration boards for yourself to come back to time and again.
Watch the empty space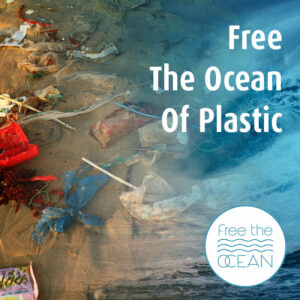 One of the exercises in a model or still-life drawing class is to focus on the negative space instead of on the subject. It's interesting to look that way when you are walking in a street or in nature.
Related: How is Negative Space Helpful for Designers and Artists?
Listen to music
Rhythm and timbres can inspire visual work. Take a look at CD covers. Does the cover reflect the atmosphere of the song you're hearing?
Make a poem
Use rhyme in an ordinary way. Or you can write the letters of your name in separate lines and take them as the first letter of a sentence.
Make lists
Lists and brainstorms evoke associative concepts. One leads to another, to the next, and so on, and so on.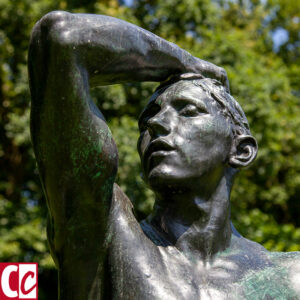 Model
Give your own twist to an imitation.
Take a hot shower
The best ideas come when you are relaxed and no longer consciously thinking about a problem. Eureka!
Open not just your eyes, but also your other senses
Or close your eyes and listen carefully. Only use your hands to 'view' an object. (It's such a pity most museums forbid touching the statues!)
Write with your left hand if you are right-handed and vice versa
You literally use another part of your brain when you discard your own automatisms. I taught myself to knit left-handed. This turned out to be very useful when knitting with more colours. Since I can knit back and forth without turning my work, the different knots of wool don't get tangled up.
Cut stamps of potatoes
Simple chores often give room for creativity. And the stamping itself can evoke new ideas.
Draw mindlessly
Doodling, mind-mapping, sketching, but also drawing what you see in front of you are great sources of inspiration.
Invent things that can not be real
Einstein has been able to develop the theory of relativity because he imagined that he travelled through space on a light beam.
Walk
Buildings and crowds inspire us as we walk around town. Trees and silence inspire us in nature.
Find an interesting exhibition
There are so many great museums that I always have a shortage of time. (Do you have my tips for a museum visit yet?)
Related: 17 Excellent Tips to Enjoy Art for Free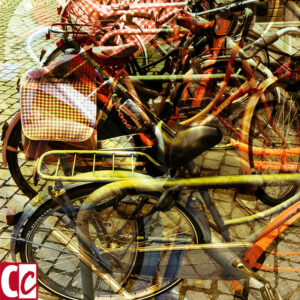 Make as many pictures as you can of an object
Change the point of view. Go far away for an overview and get closer to the details. Lie on your stomach or stand on the stairs.
Find etymological meanings
Or look up words in another language and examine similarities to sounds or words. In my graphic design practice, we got ideas for new names for projects or businesses by browsing an etymological dictionary, technical handbook, or dictionary.
Spending free time
If you're used to being inspired by the smallest event or simplest object, it becomes second nature. Do as all great artists do and keep a small notebook in your bag so that you can jot down any ideas you may have in writing or drawing.
What do you do to get a stream of ideas flowing? Let me know in the comment box below.
This article is an update. Originally published on 17-07-2017.