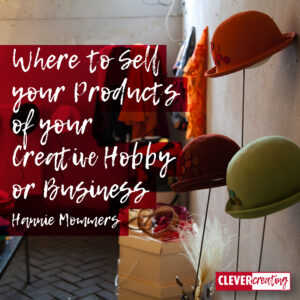 There are many aspects to think about when you want to monetize your hobby. Where to sell your products is a major one.
When I still was a graphic designer I always joked I should find a new hobby, because I didn't have one anymore by making a business of my drawing skills.
And in a way, I did find another hobby when I returned to one of my former passions: ceramics. So I have experienced several hobbies that make money and know what difficulties and pleasures might come your way.
Some of the links are affiliate links. As an affiliate associate, I earn a small commission when you purchase any of the products offered through the shared links at no extra cost to you. This helps me to maintain this website and I thank you for supporting me.
Where to sell your products of creativity?
Often when you start selling in one place, other possibilities come along as well. Use digital marketing as well as physical channels.
Handmade products as a statement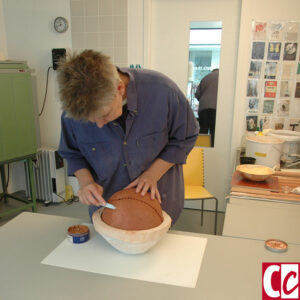 Do you love the idea of selling your products, but don't even have an idea yet what that product should be? Have a look at this article to get your own stream of ideas flowing: 59 Ideas for Hobby Products to Sell
Handmade products are much in demand. Especially now more and more people refuse to buy cheap, plastic stuff with a short lifespan.
I for one will be so happy when the ban on single-use plastic will be effective. I am especially looking forward to the creativity the packaging industry will develop for boxes and covers that are cheap to make yet durable in use.
Mind you, they don't have to be cheap for me, I just suspect that businesses are more eager to use products that are cheap.
Ways to sell physical products
It is easier to sell digital files than physical products. When you sell physical products, you also have to think about the space where to expose them, the packaging, storage and distribution.
Not to discourage you, because selling physical products, and moreover, if they are unique, is so rewarding. I have always loved the contact with the people who bought my art. LOL, even if they didn't buy anything I usually loved to talk with them!
For both digital and physical products you need customers, hence you need marketing. Find a way to promote them, people will have to know you made something.
1. Website
Having a website is a must nowadays, although it doesn't necessarily have to be your own website. Websites like Etsy and Zazzle give a lot of opportunities to sell your products, designs or ideas.
If you want to own your website then have a look at
Here you find several tips that will send you well on your way.
2. Social Media
Use a social medium to showcase your treasures. For instance:
Most social media are to make contact with possible friends. That is why they are called social. 🙂 They are less suitable for direct selling, even though there are people who sell through one of these social media. Usually, people visit a social medium to be entertained, not to be seen as possible clients.
Related: Is it Absolutely Necessary to Have a Facebook Account?
3. Crafts Market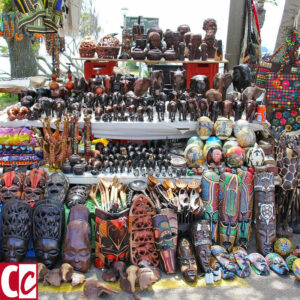 Markets are great to visit and attend. OK, the weather can be bad, so if they are outdoors it better be nice, dry and not too sunny. In my opinion, market visitors are more relaxed than, for example, shopping mall visitors.
Sometimes the format of a market is all laid out for you and there is hardly any more to think about than putting down your stuff on the table in a nice way.
Other times you have to bring your own material to exhibit your products, so you have to think of a way to easily build up and break down the exhibition material.
A great place to find inspiration is a store design business. They show all kinds of possibilities to hang or put down things. You can get ideas about promotion signs and lightning.
4. Exhibitions
Buy magazines or visit websites about your expertise. Subscribe to newsletters. Often you will find announcements for exhibitions to participate in.
And if you can't find any, organize your own exhibitions. I had 3 different formats for my own exhibitions that I alternated.
Open Atelier
You could also call it a solo exhibition. If you not only exhibit what you want to sell but open up your workshop and show the process as well, you will attract more visitors. People are really interested in how things are made and what better way than seeing the artist at work?
Group exhibitions
Inviting other artists to cooperate with you has multiple advantages.
You can share the general costs;
You expand your network of fellow artists;
You will probably expand your network of future clients as well because the other artists will invite their friends, family and clients. At least, those who understand market powers and share culture;
Chances are big the artists will invite you back in the future.
Salon meetings
In contrast with the group exhibitions, I never invited artists working in my field to my Salons. Instead, I made it a point to invite people from other disciplines. That was so inspiring!
I would pick a theme – for instance Water, Inspiration or Earth – and invite a poet, a writer, a photographer, a Tai Chi teacher, a musician, or some other discipline that would fit the theme well. I get homesick, even talking about the events. 🙂
5. Galleries
Some galleries I exhibited my ceramics asked for 30% of the sales price, others 50% or even 60%. But price shouldn't be your criterion for choosing a gallery. A quality gallery will take care of the publicity and has good contacts with the local press and a great network of wealthy clients. Some even put efforts into linking specific artists with certain clients, because they presume they will make a good fit.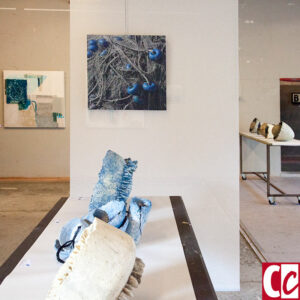 Don't try to contact clients behind the back of a gallery. Trust is a great asset you'd better not tamper with. You might save a percentage in exchange for a bad reputation.
6. Shops
In the Netherlands, shops wouldn't buy unique products. They think it is way too risky to have unique quality goods.
Some will take products in consignment, which means you stay the owner of the product until they sell it, after which they receive a percentage and pay you the remainder.
Shops are great for some products. For instance, items that are made in an edition, like screen prints or t-shirts. Shops often lack the network and promotion for unique art in my experience.
7. Contests
Contests are a better way to build on your reputation than to actually sell. Yet they are a great source to meet possible clients. And if you win a prize, then you will not only get some money but have an asset with which you can win the trust of people who don't know you yet.
You don't have to do everything yourself
For all parts of the sales process applies that you can do it yourself or outsource it. An art gallery will take care of the exhibition and the sales. A music company will produce and sell your recordings. A drop ship company takes care of the packaging and sending.
And sure, they want to be paid for that. But think of the labour they take out of your hands. In that time you can make other products to sell.
Most of the examples I have given, concern art products. I have the most experience with that, so that makes sense. Still, I expect that other disciplines can get inspiration from this for their own purposes, just as I got the idea through a street performance to organize salons.
Do you know more ways to sell your products? Tell me in the comment box below.