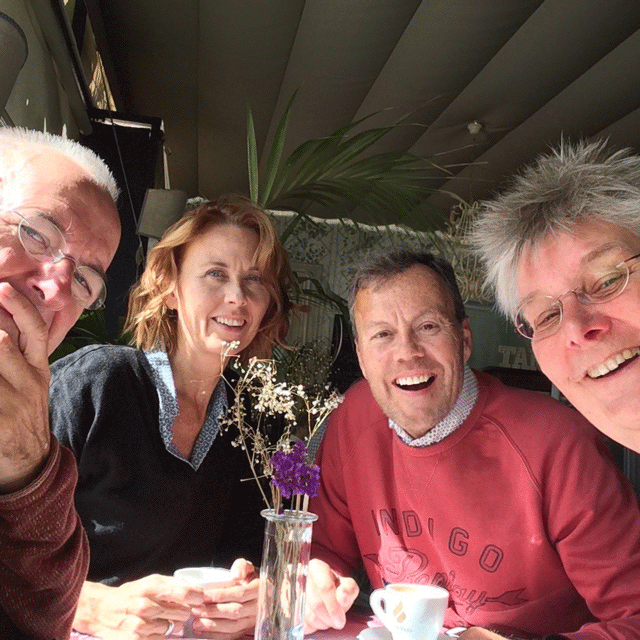 There we are. The four of us. Rob and Carol in the middle. Together at a small diner table in a restaurant in Torre del Mar that I stubbornly call Tahiti. The restaurant that is, not Torre del Mar.
The weather was beautiful and during most of the diner I was warmed by the sun that crashed through the transparent plastic cover surrounding the terrace. As usual in Spain the diner – the four of us took a menu del dia – was lavish and cheap (8,99 for a first and second course, a dessert and one drink). Since we all enjoyed it, the quality must have been good as well.
Living in Spain brings the conversation to a few standard topics: the weather (numero uno, specially since we're overrun by one Siberian storm after the other – which shows that Putin also hacked the weather and we can all stop blaming climate change), housing conditions (in winter always a challenge) and where to eat next (the choice is overwhelming). Of course there are a lot of other topics, such as the parakeets in the palm trees that border the boulevard (and did not move to Amsterdam), the fair in La Herradura (which makes so much noice it blows your heart out of your chest – glad we missed it) and the benefits of cycling on a home trainer on-line with a few hundred other aficionados (no risk of being overrun by a car, getting burned by the sun or ending up on a moutain top at the side of the road with a flat tire and having to phone your partner to come and pick you up).
In short, it was a lovely diner with good company, and we hope to do it again soon.
^tvo